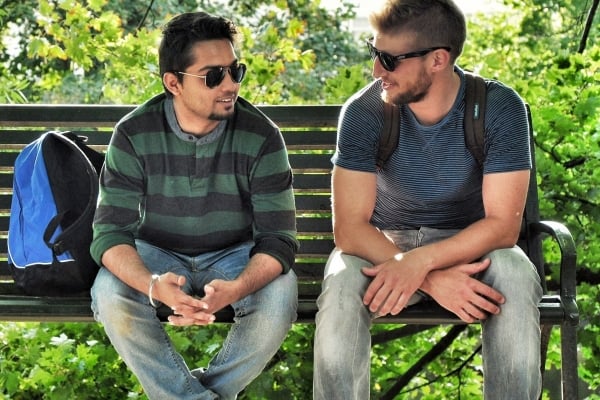 Five Practical Ways to Reach Out to Refugees in Your Neighborhood
The global refugee crisis is bringing many least-reached people to our doorsteps! God is giving believers in North America an incredible opportunity to share His love with people who've endured great suffering and are without the hope of the gospel. One worker sums up this huge open door for outreach:
Our sovereign God has a plan … Thousands who have suffered horrible trauma, betrayed by their own religion and people, are now hoping to make a new life in a new land. Are we, the church, going to step up? Are we going to offer care? Are we going to share the good news that there is forgiveness of sins and new life through Jesus Christ?
If your answer is "YES!" how can you begin to share Christ's love with refugees in your neighborhood?
1. Offer practical help.
What sort of help would you need if you moved to an unfamiliar place? There's a good chance that refugees in your community need the same things. Take initiative to show them around the neighborhood. Offer a ride or help them navigate the public transportation system. Help them find a doctor if they need one. Accompany them to the grocery store or the library and assist them in finding what they're looking for. In short, help make an unfamiliar place familiar.
2. Be hospitable.
Hospitality is a nearly universal language! It's an excellent way to tangibly welcome refugees and demonstrate God's love. Invite refugees to your home for coffee or a meal, deliver a baked good or ask them to join your family for a game night.
3. Practice English with them.
The language barrier is often one of the biggest obstacles a refugee faces in making a new life in a new home. By helping a refugee learn English, you're helping them find a job, obtain an education and take advantage of the resources that are available to them. Many colleges and community centers offer English classes for speakers of other languages and welcome the assistance of native English speakers. Or, if you know of refugees who are trying to improve their English, offer to practice with them!
4. Listen.
By the time refugees arrive in North America, they've experienced incredible loss. Some may feel they've lost their voice. Take the time to truly get to know refugees in your neighborhood. Listen to their stories if they want to share, and ask questions about their families. Seeking to understand where they're coming from can be a powerful way to demonstrate the love of Christ.
5. Pray!
Prayer is the most important thing you can do to help the refugees in your neighborhood. Ask God to lead you to people in your community that He wants you to reach, and pray that these people will see Jesus through you. And, as refugees turn into friends, you can offer to pray with them for the things they're concerned about.
God can use you in the lives of refugees! Ask Him to work through you to show His love to the displaced people in your community.
Participate by Praying:
Ask God to open refugees' hearts to the gospel.
Pray for opportunities to practically share Christ's love with refugees in your community.
Pray that many more refugees will become followers of Christ as they experience the love of believers.