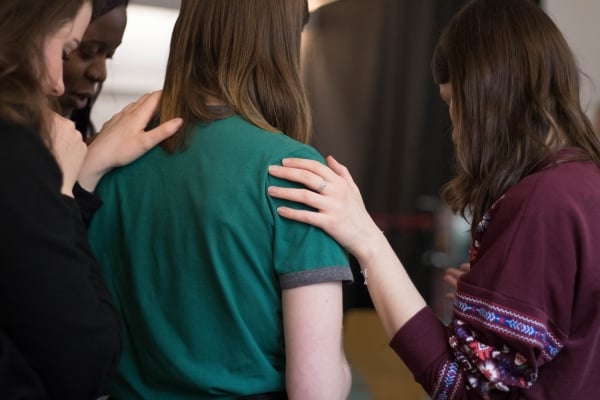 Coming Alongside Those Who Go: The Vital Role of the Church
The Body of Christ plays a vital role in the ministry and well-being of cross-cultural workers, from the moment they first begin to consider ministry in least-reached communities to their time on the field and well into retirement. Local churches provide numerous forms of crucial support each step of the way, all enabling them to participate in workers' outreach—and ultimately in advancing God's kingdom in places where few have been introduced to the hope of the gospel.
A Foundation of Prayer
At every stage of ministry, cross-cultural workers need the faithful prayers of the Body of Christ. Prayer is the foundation, supporting those who go; as churches bring these workers before the Lord both corporately and individually, they become partners in acknowledging dependence on God and seeking His guidance.
This partnership in petitioning the Lord to strengthen and use workers is crucial, whether they are still considering how God would have them serve, are just arriving on the field or have been serving cross-culturally for years.
Support on the Path to the Field
The Lord often uses leaders and mentors within the local Body of Christ to direct future cross-cultural workers regarding where and how He would have them serve. In addition to focused prayer, churches can walk alongside those considering cross-cultural ministry through conversations and opportunities that help them determine how God has equipped and prepared them to serve. By asking questions that assess an individuals' spiritual maturity and gifting and placing them in roles that enable them to test and practice their skills, fellowships play a pivotal role in steering them toward ministries for which they're well-suited and prepared. And, investing in workers at this developmental stage can give churches confidence in those they send and support.
It can be particularly helpful for churches to assign individuals considering cross-cultural service a mentor or coach who can walk alongside them as they seek God's direction and take practical steps toward the field. A mentoring or coaching relationship can provide the context for more focused prayer, accountability, discipleship and a deeper, more meaningful relationship with the sending fellowship.
Standing With Workers on the Field
No matter how many miles separate them, sending and supporting churches have an important role in workers' ministries and well-being on the field. In addition to faithful prayer, local fellowships stand behind workers through providing financial support, encouragement and helping to meet practical needs—whether from a distance or face to face.
Regular Financial Support
Workers are able to serve in places where few have been introduced to the good news because the Body of Christ takes on their physical needs through regular giving. Through investing financially in those who minister in least-reached communities, churches not only make their outreach possible; local fellowships participate in bringing the hope of Christ to those who wouldn't have other opportunities to learn of and embrace it.
Encouragement
Ministry among the least-reached can be laden with roadblocks and discouragement, from struggles to find individuals with interest in spiritual matters to opposition in the community to the challenges of living in an unfamiliar culture. Workers may have few sources of encouragement outside of their teams, making the care of the Body of Christ from far away vital to their perseverance and resilience in difficult places.
Churches can come alongside workers with numerous lifelines of encouragement. Simply staying in touch, not only about financial needs and ministry goals but connecting with workers as people, provides the basis for coming alongside them in timely and meaningful ways. It helps supporting fellowships be aware of specific needs and challenges as well as share in the joys. Within the context of an ongoing relationship with their workers, churches and church groups can build up these cross-cultural servants in numerous ways, such as sending letters or emails of encouragement, preparing care packages and remembering them on birthdays and at Christmas. (Being mindful of security constraints or concerns that workers may face is an important element of ministering to them well. Knowing what to say or not say can communicate tremendous care for a worker who serves in a volatile environment.)
Providing for Practical Needs
Just as staying connected with workers overseas can enable churches to provide thoughtful, focused encouragement, it also gives fellowships the knowledge they need to come alongside workers to meet specific, practical needs. While the individuals and families that are a part of workers' support teams can certainly help provide for things such as a ministry vehicle or plane ticket, the combined resources of a church often allow them to cover the cost of larger items and have the joy of contributing to workers' ministries in very tangible, measurable ways.
Sending Short-Term Teams and Church Leaders
As churches are aware of the needs of workers and bring them before the Lord, they may find that He is calling them to be the answer to these very same prayers. For instance, as churches ask God to provide individuals to help run a vacation Bible school program or perform a needed repair, He may prompt them to send a short-term team.
In addition, when a pastor or other church leader arrives in a worker's place of service they see the needs and challenges in a way that a letter just can't communicate. A visit can powerfully demonstrate to workers that the church is committed to partnering with them beyond praying or regularly writing a check. Such a visit can be a meaningful time of encouragement for the worker, as well as give the leadership of a supporting fellowship a more intimate understanding of workers' lives and ministries.
During Home Assignment
During home assignment, when workers take a break from field ministry to reconnect with their support teams, churches have unique opportunities to be a blessing. While furlough is often thought of as a time for workers update their supporting churches, it's also a prime opportunity for the fellowships that are part of their support teams to serve them in ways that address both practical challenges and spiritual and emotional needs.
Practical Help
Temporarily relocating across an ocean is no small feat. But, there are many ways, both big and small, that churches can help workers' time in their passport country leave them refreshed and renewed to return to effective ministry. Some fellowships have the means to provide workers with a place to stay or a vehicle to use during their time in the country, though practical help on smaller scale—such as stocking workers' refrigerator and pantry shortly before they arrive or offering babysitting throughout their home assignment—can be a great blessing as well.
Opportunities for Debriefing
In addition to meeting practical needs, churches can minister to the hearts of workers by providing environments in which they can freely share their joys and struggles and tell their stories beyond the highlights they choose to share in a morning service presentation. By setting aside time to ask thoughtful, open-ended questions, local bodies of Christ can provide valuable and meaningful times of debriefing that can help workers process the experiences of their last term. This can be a great encouragement for workers and help them feel truly cared for; and in turn, supporting fellowships can gain a deeper understanding of the challenges workers face and how to come alongside them during home assignment and beyond.

Contact our Church Partnership Team to learn more about how your church can come alongside those who go.
Participate by Praying:
Commit to pray daily for a worker supported by your church or someone within your local Body of Christ who's considering cross-cultural ministry.
Ask God for wisdom in coming alongside workers in ways that truly bless them and contribute to their ministries.