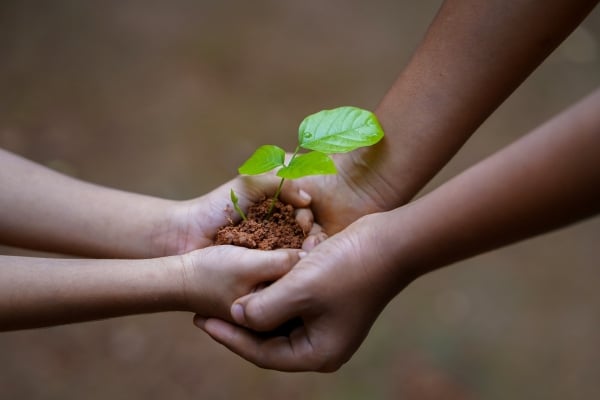 Sharing the Treasure: Blessing That Causes Thanksgiving
Blessing isn't meant to be merely received. God gives it in His grace not so we can hoard it for ourselves but so that we in turn can be a blessing to others.
The opening verses of the story of Abram, found in Genesis 12:2-3, are often used to illustrate this principle. God makes several promises to this patriarch—"I will make you into a great nation, and I will bless you; I will make your name great"—followed by promises that reveal His greater purpose for the goodness He will pour out on Abram and his descendants: "you will be a blessing … and all peoples on earth will be blessed through you." He vows not only to bless Abram but to use this blessing for the good of the nations.
However, our Lord's desire for His people to reflect His grace and goodness extends far beyond His covenant with Abram. Throughout His Word, He communicates His desire for His people to make Him known as they minister to others using the gifts of grace they have received.
In Zechariah 8:13, God tells Israel and Judah through the prophet, "I will save you, and you will be a blessing." And, in 2 Corinthians 9:8,11, Paul encourages the Corinthian church that the Lord will provide for them so that they are able to serve and give to others: "And God is able to bless you abundantly, so that in all things at all times, having all that you need, you will abound in every good work. … You will be enriched in every way so that you can be generous on every occasion, and through us your generosity will result in thanksgiving to God."
In this season of gratitude, I challenge you to be a cause for thanksgiving, not only in your local circle of influence, but also among the least-reached. Many Christar projects around the world have specific needs that individuals, families and small groups can meet, and covering the cost of these needs helps to make ministry possible in communities where few have been introduced to Christ.
Through our social media accounts, we're introducing numerous opportunities to pass on the blessing we have received so that the least-reached can experience the joy, hope and peace we have in Christ. Would you take a moment to follow us (@ChristarUSA on Facebook, Twitter and Instagram) to learn how God uses individual gifts to make an eternal impact?

In addition, I encourage you to explore our Blessing Catalog, which contains over 40 ways to be involved in projects in least-reached communities that meet tangible needs and share the transformative hope of Christ.
I praise the Lord for working through us, His Body, to demonstrate His grace among the nations. We join with the Psalmist in praying "May God be gracious to us and bless us" for this reason: "that your way may be known on earth, your salvation among all nations." (Psalm 67:1-2)

Dr. Steve Coffey, Director of Christar U.S., began work with Christar in 1989. He and his wife, Beth, initially served among North African immigrants in France. In 2001, they returned to the U.S. for Steve to lead the Christar Church Planting Division. In 2005 he became Director of Christar. Before serving with Christar, the Coffeys worked for a year in a humanitarian project in the Red Sea hills of Sudan among the Beja people. Dr. Coffey's education includes an undergraduate degree in history education from Liberty University, a Master of Divinity from Liberty Baptist Theological Seminary and a Doctor of Strategic Leadership from Regent University. The Coffeys have three children and four grandchildren.