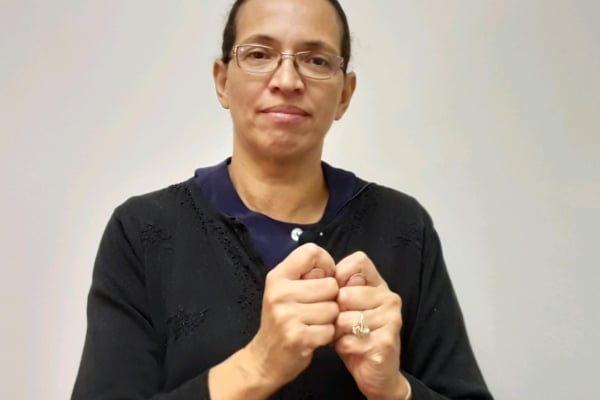 Deaf Initiative Update, December 2021 - Workers Together


"Who are your partners?" A local Deaf pastor asked me this question during my first visit to his church. He had not heard of Christar and was curious to learn more.
It's a good question, as taking the gospel to the least-reached Deaf is a task that is far too great for any one organization. The answer is multifaceted and gives us numerous reasons to praise the Lord.
Before I began working here, Christar partnered with the BLESS Foundation, an organization that gave us a sizeable grant to fund the Deaf Initiative for which we are thankful. There were also individuals who have advised Christar in reaching out to the Deaf. Jim, who works at Wycliffe and Deaf Harbor, informed Christar in the launch of the Deaf Initiative; Kenneth, a Deaf part-time pastor in a neighboring city and his wife, Sara, encouraged Christar in building relationships with the Deaf community and provided insights into the Deaf culture. We want to grow those partnerships.
Almost every month, I visit a Deaf church to build relationships with both churches as a whole and also individual Deaf believers; and recently, I've been able to present Christar's Deaf Initiative to a couple of Deaf congregations. Along the way, I've learned about other ministries that desire to reach the Deaf with the gospel and build up Deaf believers. One such organization is the Deaf Millennial Project. Although they only began in 2019, they have been very industrious in producing a wealth of gospel-centered content for the Deaf on their website. God willing, we will be working together on a Bible study for the Deaf. Whether you know American Sign Language or not, I encourage you to visit deafmillennial.com and praise God for the work He is doing through them.
There are good reasons for pursuing partnerships with Deaf churches and ministries. The New Testament passages on spiritual gifts emphasize that we cannot work alone; all of us—both Deaf and hearing—have gifts with which we can build up the Body of Christ. Adan, the Sign Language Partnership Specialist at Wycliffe, warns against creating silos in ministries. He has observed some Deaf ministries shut down for lack of partnerships with hearing ministries. The opposite could happen as well: Hearing organizations that minister to the Deaf should not become silos, lest they shut down too. It's crucial to be "workers together" (2 Corinthians 6:1).
Pastor Kenneth points out that because God made the Deaf and the hearing, we should infer that we should interact with each other. As we read in Exodus 4:11 (NLT), "Then the LORD asked Moses, 'Who makes a person's mouth? Who decides whether people speak or do not speak, hear or do not hear, see or do not see? Is it not I, the LORD?'"
We look forward to building more partnerships with Deaf churches and ministries. May God be pleased as we work together to proclaim the gospel to the Deaf and to build up the Body of Christ.