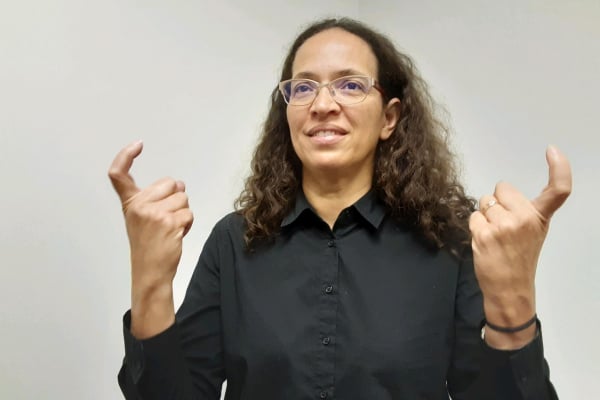 Deaf Initiative Update: Initial Fruit


A few years ago, Christar's Deaf Initiative was born out of a vision to bring the gospel to the least-reached Deaf. Now, I invite you to rejoice with me that this project has passed several significant milestones!
Numerous factors, including the challenges of communicating the gospel among the Deaf and cultural stigmas in some regions, prevent the good news from spreading among the Deaf. Yet, nothing is impossible with God! In His mercy, He has been pleased to answer our shared prayers to reach these least-reached people through our mobilization and outreach efforts.
First, we rejoice in the completion of a resource designed to help mobilize Deaf believers to serve among the least-reached Deaf! Creating this tool was a task that was out of our wheelhouse and beyond our capacity. But through the partnership of the Body of Christ, what was impossible for us alone has become a reality. Earlier this year, in cooperation with Deaf Millennial Project, we launched Through God's Eyes in American Sign Language—the first curriculum about God's heart for the nations created specifically for the Deaf. We praise the Lord that over 100 Deaf believers have signed up to study His global purposes through this resource, translated into ASL from a study written by former Christar president Patrick Cate.
Second, we praise God for raising up short-term teams to serve among the Deaf. One of our Persian-speaking workers experienced great openness and opportunity among the Persian Deaf and asked Christar to mobilize Deaf and hearing believers to reach out to this special community. Last year, Christar sent its first short-term team: two hearing believers who know American Sign Language and one who knows Persian Sign Language. They were greatly encouraged to see Deaf Persians eager to know more about the Bible.
God is also answering our longtime prayer to raise up Deaf believers to reach the Deaf. Last month the first Christar short-term team comprised of Deaf believers ministered among Deaf Persians during Nowruz, the Persian New Year. As the biggest holiday in the Persian culture, lasting a couple of weeks, Nowruz is a prime opportunity to host outreach events. Three Deaf Americans and one Deaf Persian couple joined us for our Nowruz outreach, and daily attendance ranged from five to 18 Deaf Persians.
On the Sunday during Nowruz, this team held the first Deaf-led church service in the community! Several team members shared Bible stories and verses, and a few Deaf Persians shared their testimonies. Four Deaf Persians made professions of faith in Christ that day! What an exciting and momentous service! Join us in prayer for this small Deaf church as they strive to meet monthly, asking that they will grow in faith and in number.
Finally, thank God with us that the first long-term Christar worker to serve among the Deaf reached the field this spring. Olivia,* who was part of last year's short-term team, returned to minister among the Persian Deaf! Please praise the Lord with us for raising her up to serve and for the others who are preparing to join her in ministry in this least-reached community.
We rejoice in the initial fruit God has brought forth from the Deaf Initiative! But there are still many more Deaf people groups that don't yet have access to the gospel. Please pray with us for wisdom and direction as we contemplate new efforts to reach the least-reached Deaf in other areas around the world. Ask God to raise up workers, both Deaf and hearing, for this harvest.