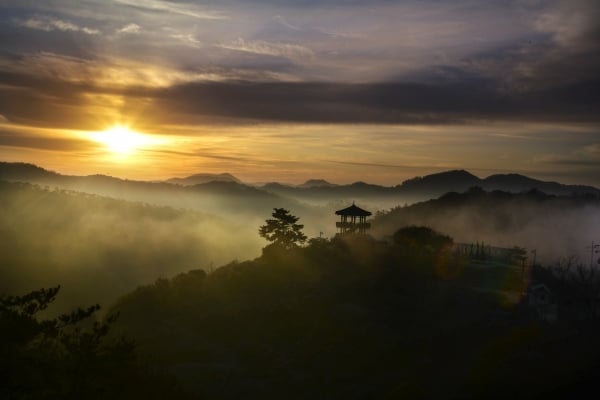 Sharing the Treasure: The God Who Intervenes
Have you ever studied another language? If so, you know that the learning process is both humbling and joyful. It is humbling in the sense that we are forced to go back to level zero and build from there; and we must practice what we have learned long before we are proficient. One day during our first year in France, as I was walking to the market to purchase some food, a boy, about 7 years old, came up to me and walked with me. He was quite the curious one! (Americans living in an immigrant housing community provoked LOTS of questions!) I thought I did a decent job in answering his inquiries, but after a few exchanges he said (politely!), "We don't talk like that." OUCH! I remember thinking, "I used to know how to talk! Now I can't even communicate as well as a 7-year-old!"
Learning another language is also a source of great joy. Besides being able to communicate the treasure of the gospel to someone in their heart language, it is a blessing to read the Word of God in another language. When I read the Bible in my heart language, I am prone to breeze through passages, especially those that are quite familiar, far too quickly. Encountering God's Word in another language requires me to read slowly, allowing time for my heart to be attentive to His voice.
Years ago, while reading Psalm 67 in French, God taught me a truth about His nature. Psalm 67:1-2 reads this way in English (NASB 2020):
"God be gracious to us and bless us,
And cause His face to shine upon us— Selah
That Your way may be known on the earth,
Your salvation among all nations."
In French (Bible de Semeur), it reads like this:
"Que Dieu nous fasse grâce! Qu'il nous bénisse!
Qu'il nous regarde avec bonté, (Pause)
afin que sur la terre on reconnaisse comment tu interviens,
et que dans toutes les nations on voie comment tu sauves!"
Here is the beauty of the French version: Verse 2 (verse 3 in French) translated back into English says: "so that on the earth we would recognize how you intervene, and in all nations, we see how you save" (emphasis added). The way of God, His mission, is to intervene! He does not leave us to fend for ourselves.
Through the incarnation, God provided the ultimate demonstration of this attribute of His character. He saw our suffering under the curse of sin, and the agony of its eventual end. We deserved to die! We have all shamed and dishonored the sovereign Lord of all creation, and the just penalty for our sin is death (Romans 6:23 and Ezekiel 18:20). This is not difficult to understand when we recognize the infinite glory of the one against whom we have sinned!
God didn't just see our helpless and hopeless state, however. He stepped in and forever altered our story:
"But God, being rich in mercy, because of the great love with which he loved us, even when we were dead in our trespasses, made us alive together with Christ (by grace you have been saved) and raised us up with him and seated us with him in the heavenly places in Christ Jesus." Ephesians 2:4-6
God the Father sent God the Son to be the means by which we could be reconciled with Him forever.
Christ physically entered the world as the eternal Word who took on flesh. He lived a perfect life and suffered and died on the cross for us as the perfect sacrifice, taking our sin and shame on Himself, paying the penalty for our sin through His death and covering our shame with His righteousness.
We the guilty, we the broken, we the cursed, have been redeemed by a God who loves us more than we can fully know. We have been transferred from the kingdom of darkness to the kingdom of light! (Colossians 1:12) How could we respond to this love except to overflow with love for our merciful and gracious Savior?
This love isn't a mere feeling; it compels us to seek to honor God through obedience to His commandments. Jesus explained this to His disciples the night before His crucifixion—the ultimate intervention on our behalf:
"The one who has My commandments and keeps them is the one who loves Me; and the one who loves Me will be loved by My Father, and I will love him and will reveal Myself to him. … If anyone loves Me, he will follow My word; and My Father will love him, and We will come to him and make Our dwelling with him." John 14:21,23b
As we obey our Lord, driven by our love for Him, we continue to experience His intervention in our lives through His presence within us. The God who restores all who believe in Him into a present and eternal relationship with Himself has sent us His Spirit who seals, indwells and empowers us. And as we, as part of the Body of Christ, follow Him, He will transform this world into a new heaven and new earth.







Dr. Steve Coffey, Director of Christar U.S., began work with Christar in 1989. He and his wife, Beth, initially served among North African immigrants in France. In 2001, they returned to the U.S. for Steve to lead the Christar Church Planting Division. In 2005 he became Director of Christar. Before serving with Christar, the Coffeys worked for a year in a humanitarian project in the Red Sea hills of Sudan among the Beja people. Dr. Coffey's education includes an undergraduate degree in history education from Liberty University, a Master of Divinity from Liberty Baptist Theological Seminary and a Doctor of Strategic Leadership from Regent University. The Coffeys have three children and four grandchildren.


Scripture quotations taken from the (NASB®) New American Standard Bible®, Copyright © 1960, 1971, 1977, 1995, 2020 by The Lockman Foundation. Used by permission. All rights reserved. www.lockman.org