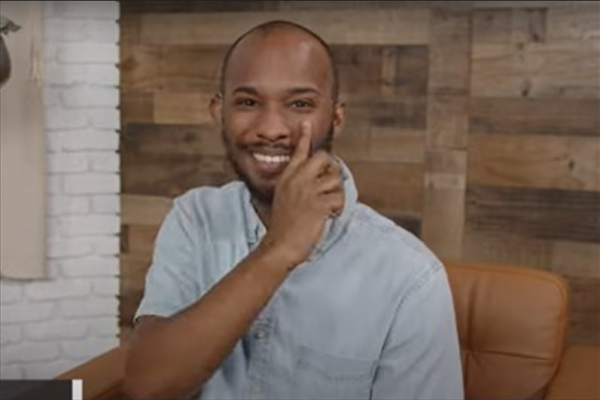 Made Possible Through Partnership
We couldn't do it on our own. God gave us a vision to mobilize Deaf believers to share the gospel with least-reached Deaf around the world—a task that was out of our wheelhouse and beyond our capacity. But through the partnership of the Body of Christ, what was impossible for us alone has become a reality.


We invite you to celebrate in God's answers to many prayers! As we launch
Through God's Eyes in American Sign Language
—the first curriculum about God's heart for the nations created specifically for the Deaf—we'd like to share with you how the Lord has provided through people who gave their resources, time and talents.
A Vision We Couldn't Attain Alone
The Body of Christ has been there from the beginning. It started with a small group of believers from a local church, including some Christar staff, meeting in the Christar Mobilization Center U.S. (CMCUS). They began praying through a list of people groups that no one was seeking to reach with the gospel. Over and over, Deaf groups around the world appeared on this list.
As we learned that 98% of the 70 million Deaf worldwide don't have access to the gospel, we began not only praying for the Deaf but asking the Lord to use us to be part of introducing these least-reached people to the hope of Christ. And we invited others to pray that God would connect us with partners who would help us serve well in Deaf communities.
Learning and Praying
As we talked with others who have ministered in Deaf communities, we increasingly saw that the people who minister most effectively among Deaf people are Deaf people. All Deaf individuals, regardless of culture, share a sense of community forged from living in a non-hearing world. Even Deaf people who use different sign languages can still communicate with one another. It might take years for a hearing person to learn a sign language and be accepted in a least-reached Deaf community, but a Deaf believer is often immediately understood and instantly accepted.
However, we also learned that very few Deaf followers of Jesus pursue cross-cultural ministry and that no resources existed to help them understand the Great Commission and the roles they are called to play in taking the gospel to the ends of the earth. So, as we began to form the Christar Deaf Initiative, we made it our goal not only to mobilize Deaf believers but to create a resource to give the Deaf Church a vision for reaching the nations.
God brought the answer right under our noses as we were preparing to move the CMCUS to a new office. While moving boxes of Through God's Eyes, a workbook on the biblical foundation of cross-cultural ministry, an idea suddenly emerged: We could create a similar resource for Deaf believers! And, that resource already existed—we just needed to translate it.
We'd already seen the Lord use this Bible study, written by former Christar president Pat Cate, to give many people—including many Christar workers—a passion for ministry among the least-reached. So, we began specifically praying that God would bring people who would come alongside us and help us create an American Sign Language (ASL) version of Through God's Eyes that could give Deaf believers a heart for taking the gospel to the ends of the earth.
Blessed With Abundant Support
This plan would require funds, and God provided in abundance! Numerous members of the Body of Christ, including many of those who had been praying for the Deaf Initiative, generously gave. The Lord also used The BLESS Foundation, an organization that partners with businesspeople to raise funds to reach the unreached with the gospel. Each year, BLESS selects five ministries' projects to support, and in 2020, they chose Christar's Deaf Initiative to receive a substantial grant—one that included funds to translate Through God's Eyes into ASL.
Partnership in Production
In addition to financial resources, we also needed people with the skills and experience to create a professionally produced video course. Once again, God answered prayer, this time through Deaf Millennial Project, an organization that seeks to inspire generations of Deaf believers to radically follow, apply and practice the life of Christ. They develop digital biblical content, events and resources in American Sign Language—resources like the course we envisioned.
Brandon Gaskin and his team of Deaf Millennial Project volunteers put their expert translation and production skills to work to bring Through God's Eyes to life in ASL! The resulting 14-part video course is the first Bible study about God's heart for the nations uniquely designed for Deaf believers.
Through God's Eyes in American Sign Language is available for free on the Deaf Millennial Project website and will soon be offered through the YouVersion app. By God's grace, this video series will give Deaf believers an understanding of God's global purposes and of the roles that He calls His people to play in bringing the gospel to the ends of the earth. We're asking the Lord to use it to give the Deaf Church a vision for reaching the least-reached and to encourage Deaf followers of Jesus to consider their part in the Great Commission.
Join us in praising God for making this groundbreaking resource possible through partnership! Though the vision He gave us was too great for us to fulfill alone, we rejoice in the ways we've seen many members of His Body at work.
Participate By Praying:
Praise God for making Through God's Eyes in American Sign Language possible through the partnership of many within the Body of Christ!
Pray that many Deaf believers will use this course and, through it, be encouraged to personally participate in bringing the gospel to the nations.