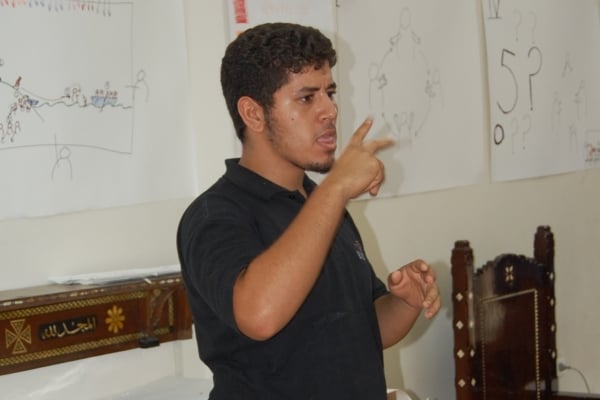 Openness and Opportunity Among the Deaf
"There's an openness to the gospel," says Christar worker Frank.* "The local religion isn't doing anything for them. They have been taken advantage of and abused, even among themselves. … The opportunity is so great."
Despite this openness, there are only about a dozen followers of Christ among the Persian Deaf. Hundreds of thousands more are without the hope of Jesus—not because they have rejected Him, but because no one has shared the gospel with them in a way they can understand and through a means that's relevant in their culture.
Efforts to reach the Hearing population among which these people live won't bring the message of Christ to the Persian Deaf. Like Deaf people groups around the world, this group has its own distinct language and unique culture, and they will remain least-reached unless workers are sent specifically to them.
But God is raising up workers uniquely equipped to communicate the good news among these least-reached people: Deaf believers! These workers already possess many of the skills needed to convey the message of Jesus in ways that resonate in Deaf communities. In addition, because their identity as Deaf is stronger than their ethnic or national identity, they are often far more readily accepted into these communities than Hearing workers.
Through the Deaf Initiative, Christar is engaging these followers of Christ to reach the Deaf in their unique languages and cultures. We're mobilizing Deaf believers—those who can most effectively convey the hope of Jesus among the Deaf—so that these least-reached people don't have to wait any longer to be introduced to this eternally good news.
Using three complementary strategies, Christar is working to impart a vision for seeing thriving, reproducing Deaf churches established among the Persian Deaf. It's our prayer that this initiative will be just the beginning of a larger effort to reach the Deaf in numerous communities where Christ isn't yet known. We're asking that, by God's grace, it will lay a foundation for involving the Church in ministry among the Deaf around the world.
1. Imparting a Vision
Mobilizing workers to serve among the Deaf begins with giving believers an understanding of the needs of these least-reached people and instilling within them a passion for seeing the Deaf know and worship Jesus. While resources like the Perspectives on the World Christian Movement course are incredibly effective in helping Christians understand God's global purposes and how they can be involved, a resource designed to mobilize Deaf workers doesn't yet exist. In addition, resources like this are only available in written and spoken forms, not in sign language, the heart language of the Deaf.
To fill this gap, Christar is developing a video course specifically designed to give Deaf believers a vision to reach the Deaf living amid least-reached communities. Once completed, this resource will be made available online, providing the Church with a vital tool that will engage the Body of Christ in bringing the gospel to the Deaf.
2. Mobilizing Those God Calls
As Deaf believers gain a vision to see the least-reached Deaf come to know their Savior, they will need to be mobilized to turn their passion into action—a task that requires engaging them in their heart language and culture. To effectively reach out to Deaf churches and introduce members to the ways God can use them for His global purposes, Christar will add a Deaf or "CODA" (a child of Deaf adults) mobilizer to its team—someone who can walk alongside those God calls on their path to the field.
3. Providing a Taste
Over and over, we have seen God use short-term service to raise up workers for long-term ministry! We're trusting Him to do so again as we plan two short-term trips to the Middle East that will provide a taste of ministry among the Persian Deaf.
We will recruit teams of Deaf believers who will be trained in Persian Sign Language and Bible storytelling, and then practice their newfound skills as they partner with long-term Christar workers serving in a Persian community. These short-term workers will experience firsthand the great need of the Deaf in this area and gain understanding of how God can use their unique gifts to make His name known among these least-reached people.
Through the ministry of these teams, members of the Persian Deaf community will encounter the gospel for the first time, and bridges for future outreach will be built among them. In addition, by God's grace, some of these short-term workers will return to serve long term, and all will become powerful advocates for the great needs of the least-reached Persian Deaf.
This initiative is a big undertaking—a God-sized challenge. But we're trusting Him to use this project to create a contagious passion for reaching the Deaf that will lead to more workers serving among them and, ultimately, to many Deaf knowing the hope found only in Jesus. It's our prayer that the Persian Deaf—and eventually many other Deaf people groups like them—can stop waiting to be introduced to the good news.
Participate by Praying for the Deaf Initiative:
Pray that the new resource Christar is developing will give Deaf believers a vision for reaching the Deaf living amid least-reached communities.
Ask God to work through the Deaf mobilizer to connect Deaf believers with opportunities to use their unique gifts to serve among people who haven't yet been introduced to the gospel.
Pray that short-term teams sent to serve among the Persian Deaf will lay a strong foundation for long-term ministry among this people group.
Ask God to enable Christar to effectively collaborate with other organizations ministering among the Deaf.