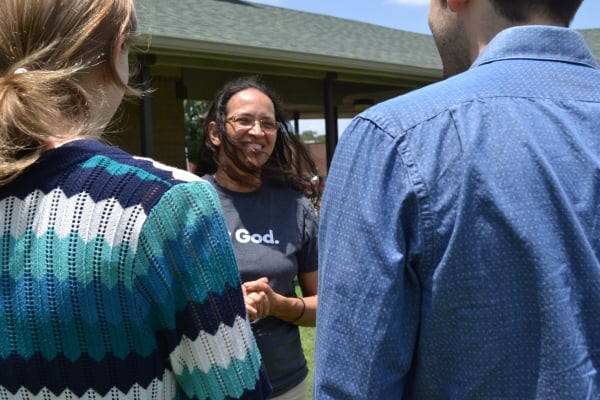 Desiring to Serve Among the Persian Deaf
For several years, Daniel and Larissa* have wanted to work with the Deaf. But opportunities to do so were hard to come by.
A couple years ago Daniel, then a pharmacy student, attended a Global Missions Health Conference in search of opportunities to serve among the Deaf. Most mission agencies participating in this event were not involved in ministry in Deaf communities, though some suggested that Daniel and Larissa, both of whom are fluent in American Sign Language, could initiate an outreach to the Deaf. Christar was the only organization at the conference that specifically stated that they had a Deaf Initiative.
This was thrilling news for Daniel and Larissa, and they connected with a Christar mobilizer who has been coaching them as they've looked toward serving among the Deaf. Through prayer and a series of circumstances, they have been sensing the Lord directing them to the Middle East.
When God opened an opportunity for the couple to travel to a Middle Eastern country with their two small children, they were eager to go and explore ministry opportunities among Deaf refugees and immigrants. Although the refugees Daniel and Larissa encountered on their trip use Persian Sign Language, which differs from ASL, the two of them were able to communicate through Sign Roots (a system of movements and expressions that enable cross-cultural communication and understanding among the Deaf) and some international gestures. They were excited to meet Shireen, a Deaf believer who loved Daniel and Larissa's testimony so much that she asked them to share it again every time they met with other Deaf refugees.
As Daniel and Larissa visited a fellowship of Deaf believers, they observed that the Deaf love learning Bible stories, yet very few Christian resources are available in Persian Sign Language. Seeing this need firsthand gave Daniel and Larissa a deep burden about this problem, and God has instilled in them a desire to come alongside Deaf Persian believers with the goal of seeing stories from Scripture translated into their language.
Now that they are back in the U.S., Daniel is looking for work as a pharmacist to support his family while they prepare to return to the Middle East. Once they move overseas, it's unlikely that Daniel will be able to get a job as a pharmacist due to cultural norms in the area in which they want to serve. However, he's grateful that this country welcomes the services of Western pharmacists in providing care for the refugee population, and he is hoping to use his skills and training to serve this community.
In addition to raising support, Daniel and Larissa have a checklist of things to do before going as Christar workers. And, once they arrive on the field, they'll need to learn both Persian and Persian Sign Language, as well as gain proficiency in the language of their host country. But they're excited about serving the Lord through ministering Deaf refugees and immigrants in the Middle East. Along with them, we eagerly anticipate seeing more of the Persian Deaf come to know Christ and be able to learn about Him in their own language.
Participate By Praying
Praise God for giving Daniel and Larissa the opportunity to see the needs of the Persian Deaf firsthand and for building within this couple a desire to serve among these least-reached people.
Lift up this family as they prepare to return to the Middle East.
Ask the Lord to raise up more workers to take the gospel to the Deaf in the Middle East and around the world.