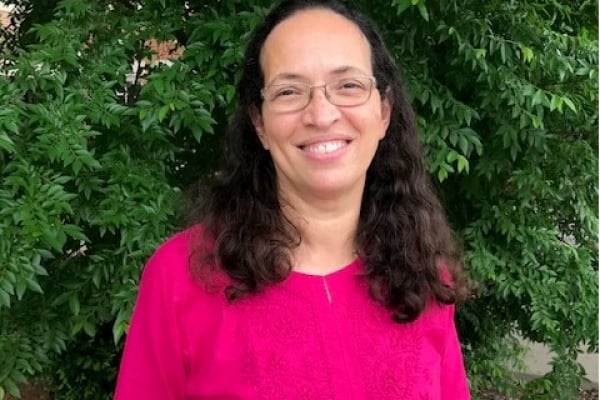 No Communication Gap: Introducing Faith
As our Deaf Initiative has developed, we have earnestly asked the Lord to provide someone with just the right gifts, experience and passion to coordinate this project. Specifically, we prayed that He would send a Deaf or CODA (child of Deaf adults) believer—someone who could readily and fluently serve as a bridge between Christar and the Deaf churches with which we're seeking to partner to take the gospel to the Deaf around the world who don't yet have access to this good news.

God has provided by bringing Faith to us! Below, she answers a few questions about her personal story and the importance of reaching out intentionally and specifically to the Deaf.
How has God worked through your story to equip and prepare you for this role as Deaf Initiative Coordinator?
Being around the Deaf has always been normal for me. I was born to Deaf parents, both of whom lost their hearing due to illness. My father founded Christian Mission for the Deaf, which focused on meeting the needs of the Deaf in Africa, and I spent part of my childhood in West Africa. For several years I was almost completely surrounded by the Deaf community when I was not in school.
Growing up, my brothers and I interacted with the hearing world on behalf of my parents' ministry. We took turns making cold calls to churches and interpreted when my mother and father spoke before hearing congregations. God gave me, starting at a young age, experience in ministry that connects the Deaf and the hearing.
In Bible college, I took some missions courses and gained an interest in serving in several locations. But God closed those doors, eventually leading me to Dallas, where I met my husband and became a mother of six.
In the mid-2000s, I started working as a sign language interpreter at a community college, and over the past few years, I'd been considering what the Lord would have me do when I'm no longer interpreting. I knew I wanted to do something involving the Deaf and looked into several options. But, when a friend who works at Christar asked if I'd be willing to serve as coordinator for the Deaf Initiative, I was taken off guard. That wasn't a job that was even in my line of sight—I didn't know it existed. I knew of Christar, but I didn't know of this need.
So many things in my life have been preparatory for this role. I'm still in awe of the ways in which the Lord has equipped me.
What sign languages are you fluent in?
The sign language my family used, like most Deaf of my parents' generation, was actually what is now called "Signed English," which uses the same grammatical structure as spoken English. In contrast, American Sign Language (ASL) has its own grammar and syntax. Working as an interpreter made me more aware of and fluent in ASL and helped me be more immersed in this language, as did taking my mother to an ASL Deaf church in the Dallas area after she moved in with our family. The Lord used these experiences as additional training grounds.
Why is it important to take the gospel to the least-reached Deaf specifically rather than seeking to reach them as part of their surrounding cultures?
When he would speak at churches, my dad would ask the audience, "If you had the choice, which would you rather be: blind or deaf?" Many times, people would respond that they would prefer to be deaf. My father's answer was the same as Hellen Keller's: Blindness cuts you off from things, but Deafness cuts you off from people because it's all about communication.
Being cut off from communication means being cut off from the gospel, and this is especially true in developing countries, where the Deaf are incredibly marginalized. There are so few if any accommodations and little to no education for the Deaf, and as a result it's very hard to reach them.
We need to be concerned for the Deaf because there's a huge communication gap. The blind can hear the gospel through radio or hear through the internet, but the Deaf can't. They can't access the good news through the same means that are used to reach the general population.
Why is it so important to partner with Deaf believers to take the gospel to the Deaf around the world?
While God can and does use hearing believers to draw the Deaf into His family, as He did for my father, having a Deaf person or a CODA seeking to reach the Deaf is icing on the cake. Someone with that deep, personal understanding of what it's like to be Deaf doesn't have to overcome the communication gap that others would face.
I think it's very prescient that Steve and other people at Christar were praying specifically for a Deaf or CODA individual to serve as the coordinator for the Deaf Initiative. To effectively engage Deaf believers, it's not enough to just know ASL; you really have to be immersed in the Deaf world to understand what it's like to be Deaf.
It's also important to have and understand a "Deaf instinct"—being very aware of one's surroundings, always on the lookout—and as a CODA I know to look for those visual cues. Those instincts transcend culture.
What barriers prevent Deaf believers from being involved in missions?
A big issue in the West is being sidelined. Even though there are accommodations, there are still assumptions in society that the Deaf can't do things. Sometimes these beliefs are perpetuated within the Deaf community so that a Deaf person might think "I can't do that" or "I can do it, but I don't have the support of people who think I can do this ministry."
That's a big barrier. God's the one who empowers, but having the support of the hearing community can play a huge role in involving Deaf believers in missions.
We eagerly anticipate sending, by God's grace, Deaf workers who will give least-reached Deaf people groups access to the gospel for the first time! Please join us in praying that through the Deaf Initiative, Deaf believers will be mobilized and equipped to serve and that the Deaf around the world will come to know and worship Jesus.
Participate Through Prayer:
Praise God for uniquely equipping Faith to serve as coordinator of our Deaf Initiative!
Pray for wisdom as she seeks to serve as a bridge with the Deaf Church, enabling Christar to mobilize Deaf believers to serve among the least-reached.
Ask God to raise up many workers from among the Deaf to take the good news of Jesus to the least-reached Deaf around the world.