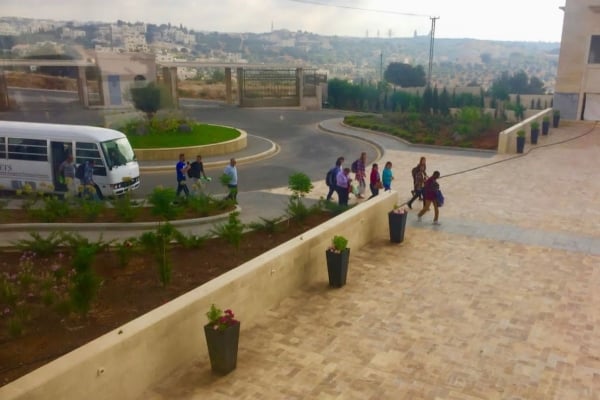 God's Provision for Community-Centered Ministry Training
Lemas* didn't understand why a two-day getaway should be part of his education at Jordan Evangelical Theological Seminary (JETS). He reasoned that he had not put his life on hold to go on a retreat, but rather to study theology so he could minister in the Middle East, a region where Christians are a decided minority.
But, as the seminary president shared more about the retreat and the topic that would be the focus of this event, "proof of the death and resurrection of Christ," Lemas felt more encouraged to attend—especially when he heard that all of his fellow students, who come from countries throughout the Arab world, as well as faculty, staff and their family members would also be there.
Lemas now describes that 2018 retreat as "the most beautiful time I spent through my study years at JETS." He celebrates the stronger relationships he built with others during the two days spent together, away from the stresses of normal life.
"We overcame the solid and serious relationship to [develop] a soft and flexible relationship with everyone," Lemas explains. The retreat gave participants a deeper understanding of the discussed topic, but even more importantly it left them with "family bonds full of love," as well as a deep sense of refreshment and encouragement.
Retreats break down cultural barriers between students from different countries as they share the same experiences together outside of a classroom environment. Aridob, the student council president at JETS, describes the retreats as a "good opportunity to meet our colleagues' families, as well as the families of our staff and faculty members and to get to know them well."
Rebecca, the seminary's chief operations officer, shares that JETS exists not only to equip students academically, theologically and spiritually, but also to prepare them to live in community. The seminary's retreats are part of this vital training for ministry throughout the Arab world. However, in 2019, due to limited finances, the JETS community could only afford a daytrip rather than a two-day overnight getaway. And, because of the pandemic, retreats weren't possible in 2020 and 2021 either.
But now, because of the generosity of many donors, JETS is holding its next retreat this spring! Through the gifts of numerous members of the Body of Christ as a result of the Christar Giving Catalog, God has provided the finances needed to host an overnight trip for the student body, faculty and staff!
"People leave everything in their home countries to come to JETS," Rebecca explains, and they receive scholarships from JETS for both tuition and living expenses. Since JETS is a nonprofit and the students cannot afford things like a retreat on their own, the seminary and staff rely on God to provide through donors.
She also points out just how much the retreat means to the greater JETS family, comparing it to a trip to Disneyland for the students. "To sleep over, to have someone cook for them, not worrying about anything—for some it is like a dream come true! It's a deeply good time that they could not afford on their own."
A Gift With Ongoing Impact
In addition to making this year's retreat possible, donations made to JETS through the Giving Catalog will impact students for years to come. One particularly substantial gift will make a ongoing difference as students come and go to classes each day.
In order to save money on rent, many live in areas of town that are far from the seminary, which makes getting to and from campus a challenge. Several years ago, the seminary owned a vehicle to transport students, but it frequently needed maintenance. Due to the limited finances available at the time, the vehicle could no longer be used, forcing students to take public transportation to the school—a reality that cost some as much as three or even four hours each day.
But now, thanks to God's provision through one generous donor, the seminary has the funds available to purchase a new bus to pick up students from around the city and bring them to campus.
As one student from North Africa explains, "One of the most important things that happened this semester was the return of the JETS transportation bus, which helps in reducing the pressure and hardship on us." This provides them the opportunity to "study, pray and read the Bible freely during the trip, as on public transportation we are not able to do so."
Rebecca shares that every time the Lord blesses the seminary financially, such as through this donor, she feels how faithful He is. "I knew the bus was a big amount of money," she says, "but I had faith. Thank you for making it easier for students to get to the seminary without the stressful time on public transportation!"
Gifts like these enable JETS to accomplish its purpose: to equip spiritual leaders to strengthen churches in the Arab world. As Rebecca shares, resources such as the student retreat and the seminary's vehicle are tools that "enable students to focus wholly on that main goal" and thoroughly prepare to serve among least-reached people in their home cultures.

A previous version of this story reported that the new bus was already in service. However, it was updated after we learned of a delay in the acquisition of the new vehicle. Provision has been made by the school to ensure that students have adequate transportation to and from class, but the new bus is not yet available to students. Join the staff and students in prayer that the required clearances will soon be granted and the purchase of the bus can be completed.
Participate by Praying
Praise God with us for providing abundantly to meet these two needs of JETS through the generosity of Giving Catalog donors!
Pray that the retreat planned for the first week of April would yield good fruit in students' lives, as well as be a time of refreshment and renewal for them, their families and the JETS faculty and staff.
Ask God to protect students and bless their conversations as they commute in the JETS bus, and pray that the vehicle would stay in good condition for many years to come!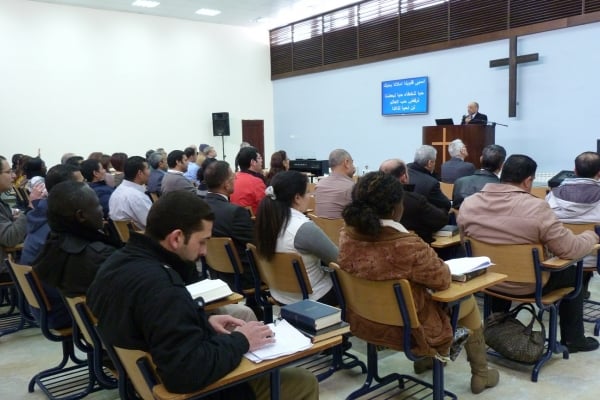 Equip spiritual leaders for planting and strengthening churches in the Arab World.