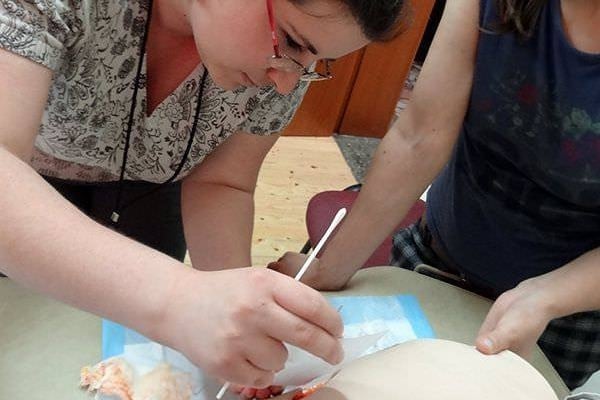 A Doctor Transformed: Adelina's Story
"I don't know your name, but I know you are here," Adelina* prayed. A high school student in Albania in the 1990s, Adelina heard about God through the ministry of Christian workers who entered her homeland when the 33-year Communist ban on religion was lifted. She didn't read the Bible she was given, but her interest was piqued. A seed was planted.
New Life, New Opportunity
In her second year of medical school, as Adelina studied biochemistry, she knew that an amazing God must be the source of the complexity she observed. She started to attend Christian events, drawn partly by her love for music. She began to understand more about Christ, and more about the gospel. Soon He led her to a church, where she came to faith and began to participate and grow.
Over the next few years, a fellowship of Christian doctors and students was influential in Adelina's spiritual formation. One of those doctors was the medical director of the ABC Health Foundation, a faith-based Albanian organization practicing and teaching quality health care based on biblical principles. After medical school, Adelina applied for an internship at ABC. She was selected to be a two-year intern, working under the supervision of experienced family practice doctors, some of whom are Christar workers.
The Training She'd Never Had
Although she'd graduated from medical school with high grades, Adelina felt unqualified to consult with a patient. She even questioned her ability to learn. Like the vast majority of medical students in Albania, Adelina had graduated from medical school without ever seeing a patient consultation or taking a medical history. She had never been trained to do a physical examination.
After her first few months of training at ABC, Adelina visited a clinic in her hometown to observe a consultation. She watched as the doctor took a brief glance at a patient's painful knee before simply writing out a prescription for painkillers. Something clicked in Adelina's mind. "I never went back to consultations at my local clinic," she says, "but I am glad for that day I went there, because it answered my question [about why I felt so unqualified]. It is not my inability to learn or lack of a good memory … but the medical [training] system."
As she worked daily with Albanian, American and British doctors at ABC's Family Health Center, Adelina's understanding was transformed. In her first year as an intern she grew significantly as a believer and as a physician, learning to take a medical history and to examine a patient as a person in need of compassionate care.
Teaching Others, Touching Lives
By the end of her first year at ABC, it was clear that Adelina had the gift of teaching. She naturally began to pass on her newly-acquired skills and knowledge to two other young Albanian physicians, Edona and Diellza, who had asked to volunteer at the Health Center. She took them with her to visit patients and taught them what she was learning.
After completing her internship, Adelina was offered a job at a clinic set up by another Christian organization. Looking back, she observes, "The training and competency we interns received at ABC helped us hugely in our professional abilities and [increased] our credibility in the community."
Soon, Adelina was joined at the clinic by her friend and mentee, Edona. Word of their excellent patient care spread, and patients began bypassing closer clinics, driving 40 minutes or more to see the compassionate doctors.
A Legacy of Life Change
Adelina and Edona began holding a Bible study for the local community after clinic hours. When the two doctors left the clinic after several years of service, they left behind a new church. Both physicians still visit weekly, despite a two-hour drive.
Today, Adelina is a sought-after speaker at ABC's training conferences, and she has just returned to the ABC Family Health Center as a full-time senior staff member. She is eager to bring Christ-honoring transformation to the practice of medicine in Albania–and she is living proof of how God can use His people to do just that.
Participate by Praying:
Lift up Christar workers serving at the ABC as they train the next generation of doctors to provide quality health care based on biblical principles.
Ask God to continue to use graduates of the ABC's internship program to cultivate Christ-honoring transformation in Albania.