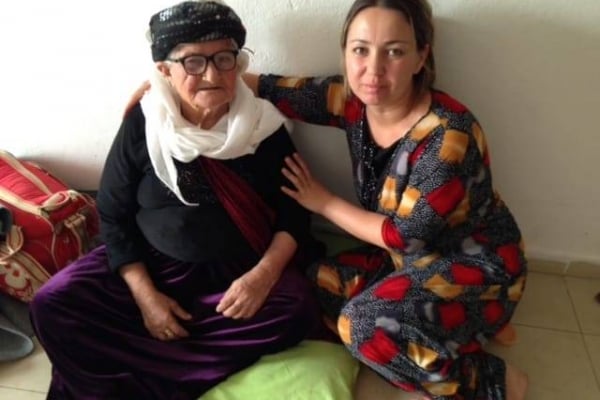 Ready to Die and Willing to Live
"But you will receive power when the Holy Spirit comes on you; and you will be my witnesses in Jerusalem, and in all Judea and Samaria, and to the ends of the earth." Acts 1:8 NIV
A Christar worker, originally from the Middle East and trained at Jordan Evangelical Theological Seminary, shares how God is transforming both herself and other believers as He leads them to serve refugees in her war-torn homeland.
Sometimes God takes us back to where we began. He did this in my life, and I've seen Him do this with the Church in the Middle East.
God gave me a vision, but I had to follow Him, step by step, to see it bear fruit. I left my homeland and was trained in the Scriptures. I travelled far and wide to serve Him; but eventually, He brought me back to my "Jerusalem." All along, He had been preparing me to return to the Middle East.
As I came back to my community, to the church here, I realized that while these believers lived each day ready and willing to die for their faith in Jesus, they didn't yet know how to live for Him.
Our community is surrounded by need. Refugee camps are all around us, and the people who live there have lost everything. We are poor, but they have nothing. And that is how the church found that we have much to give.
Together, we are reaching out with love and compassion to the refugees throughout this region. We are teaching them the Word of God. We teach literacy classes so they can read and study on their own. We are feeding those who are hungry, but not only with this spiritual nourishment. We bring food and supplies to these displaced communities, and we are able to connect with the people in their pain and loss.
It is a crushing and sorrowful ministry, but we as a church have learned that in each situation, we must bring each person, each story, to God for help. And over and over, we see Him provide.
Doctors, pharmacists and nurses are coming to help us touch refugees with healing. And God is at work, both in us and through us. These believers who are already willing to die for Jesus are learning to also live for Him, serve through His power and help, and in His name, we are ministering as He did.
God is at work, transforming not just the lives of refugees, but each of us as well.
The refugee crisis continues to stretch across the globe. It's likely that those who have been driven from their homes by conflict and disaster now live in your community. Like the Church in the Middle East, the body of Christ in North America has an opportunity to live and serve as Jesus did. The Iraqi Refugee Outreach Project is ministering to Arabic-speaking refugees from Muslim, Yazidi, Christian and Sabean backgrounds who have been relocated to the United States. Through this project, Christar workers throughout the U.S. are seeking to mobilize churches to address spiritual issues and meet tangible needs as they reach out to refugees in the communities near them. It is a difficult work, but one through which God is building and transforming His Church!