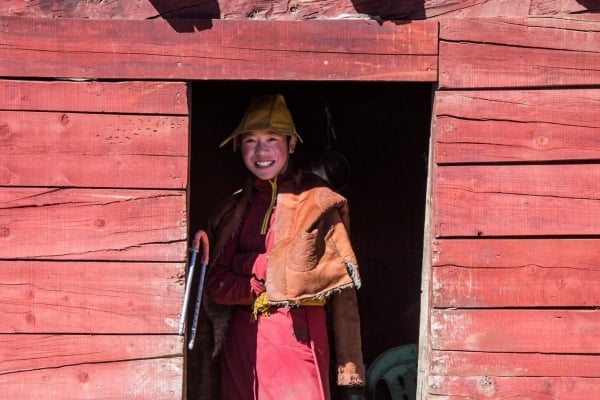 Miles From Nowhere, Open Doors for Hope
God often uses workers' medical skills to open doors in least-reached communities, not only to care for physical needs, but to share everlasting hope. A Christar worker serving as a doctor in the Far East tells us, "Medicine is perhaps the best avenue for sharing compassion with the people and gaining trust and friendship, even inclusion, into their world." Below, he shares how he's seen God provide opportunities to minister among people who might never otherwise hear the gospel.
In a mountainous region, three days' drive from our town, a reclusive, secluded religious community lives just far enough off the main road that it cannot be seen by travelers. Surrounding villages know of its whereabouts, but most drive by without realizing it's there. It's generally regarded as off-limits to outsiders.
Found there is a temple with one of the largest concentrations of Tibetan monks and nuns in the world. Many of the 700,000 people in the region still live as nomads, and most have never heard there are other religions besides Buddhism.
Near the end of 2015, I received a call from a Buddhist leader from the gateway town on the eastern extreme of this region. "I have a relative in my town who has been sent home from the hospital in the big city," he said. "They said there is nothing they can do. He has a parasitic liver cyst. It is inoperable, and he is dying. I heard you can cure this disease."
I'd never seen the disease, though I had studied it in medical school—30 years ago! I was planning a trip to an ancient town in the middle of the region in just a week, so I agreed that if the man could come to a place close to that town, I would see him. But I made it clear that I could give no promise of a cure. The hospital where the man had been seen is regarded as one of the finest in the country.
Eight days later, I walked into a small brick Tibetan home and saw the elderly looking man lying on a bed in the corner. He appeared to be near death. He was extremely yellow and emaciated. He hadn't been able to eat without vomiting for over a week. "I can barely drink anything!" he said tearfully. He was too weak to stand, but he grabbed my hands with all his strength in a pleading gesture.
One of the monks in the room handed me the patient's records. The man had had a sonogram revealing a 15cm cyst in his liver. Blood tests indicated severe anemia and extensive liver abnormalities.
"I'm not sure I can help you," I told the man. "The medicine I've brought can sometimes help. But sometimes it causes a bad reaction that could cause you to die more quickly. Do you want to try it?"
"I am going to die anyway!" he replied. "I want to try it. Please!"
"Would you like me to pray for you?" I asked, after giving him enough medicine for two months (all I had).
"Yes!" he responded emphatically.
I first gave a quick presentation of the gospel from creation to redemption to explain why we are able to pray. "We know that God hears our prayer, not because we are special people or have special powers, but because Jesus has paid for our sins," I declared. The man was weeping as I finished.
I heard nothing for a month. I suspected the man had died, and I would hear nothing else.
I was in my clinic one morning when a young-looking man came bounding into the room. "It's me, it's me!" he blurted out.
"Who are you?" I returned.
"I am the liver man! It's me!"
It can't be, I thought. The man was not emaciated, not jaundiced and not old. Younger than me, for sure! He was dressed in traditional clothing, and his eyes were bright. He was beaming. He had a scar on his head that I remembered from before, but it was the only similarity this man shared with the one I had seen.
"Get over to the hospital, and get a sonogram!" I shouted. "Liver function tests too!"
His cyst was now only 7 cm and was empty. His liver tests were normal. He was better—no symptoms at all. I bought him medicine to complete a full three-month course.
He draped a Tibetan scarf of thanksgiving around my neck and was gone. Again, I thought it was the end of the story.
However, soon I was receiving calls from all over the region, including one from a Buddhist nun. "There is another patient who would like to see you, but they are far away from the town where you saw the last patient," she explained. She was so insistent and clearly concerned that I agreed to see the patient.
Once I agreed to drive the extra seven hours up to their town, I learned there were three patients, not one. Two weeks later, I was driving into the town at the end of a long mountain pass. Sure enough, there were three people along the road holding up CT scans and waving to our vehicle. I stopped under a tree and began examining them. Sure enough, all had liver cysts.
Soon the phone rang: "Where are you, doctor?" It was the nun.
"I'm seeing your patients. They were waiting by the road."
"Those are not the patients I arranged. My patients are waiting in a hotel!"
How these other patients knew when and where I would be entering town remains a mystery to me. I got them into my car, and we drove to the hotel. A quiet, solemn crowd of monks rushed to grab my things and threw a scarf around my neck as soon as I got out of my car.
One of the three patients in the hotel was a very important-looking monk. He had other monks and nuns there who were obviously his attendants, and I learned he was the high lama of the largest monastery.
I had heard of the monastery but never expected to be able to see it. After seeing the lama, he asked if I could come to the monastery and examine more patients. "We have hundreds of people with this disease," he said excitedly.
"Could you let me see the worst five?" I chuckled. "I didn't bring medicine for so many!"
Turns out he gathered the worst 45, but many had other diseases. About seven had severe liver disease.
When I returned from the village, I bought two large crates of medicine and shipped it to the nun, who distributed it to the patients I had seen. Most had seemed beyond help, but the report soon came back that all had improved and that many others wanted to come see me where I live.
——————–
It's been a year, and I've seen 30-40 patients with severe liver disease related to parasitic cysts. All have reportedly gotten better. Now it seems every town has people who are inviting me to come visit, have tea and see some patients.
Slowly, there are opportunities to share. None of these patients have yet understood the good news. However, relationships are growing and some are gaining hope for more time in this life. Perhaps in time some might gain hope for the life to come.
Participate by Praying:
Praise God for giving Christar workers opportunities to share truth with people who've never heard the gospel as these workers reach out through health care.
Ask God to continue to open doors for medical professionals to minister in least-reached communities.