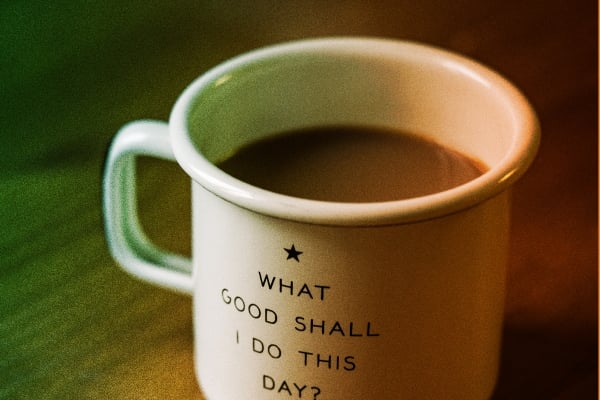 Pursue Goodness Now
Our world is going through a rough time and could use some goodness. Honestly, I'm going through a rough time and could use some goodness too. Each time I've sat down to write, I've been inundated by distraction. The world seems inescapably chaotic and my life feels frustratingly upended. I've stumbled to put thoughts about goodness into words that don't come off as trite and thin.
"Good" is one of those non-words we use when we have little to say—when we're asked, "How was your day?" or "How are you?" or "What's life like these days?" and we respond, "It was good. … I'm good. … It's good." These are words without passion. Yet, what sets true goodness apart is the requirement of action. Goodness is virtue and uprightness acted out. Goodness calls for motion.
The isolation and disappointment you're likely experiencing because of this forced stop on routine comes from the underlying effects of culture shock, as we transition from hectic livelihoods to the slowness of shelter-in-place. How do we infuse goodness into others in our lives at a time like this? And how do we keep at it once COVID-19 is just a memory?
Start with those closest to you right now. If you're stuck in tight quarters with family or roommates, look for ways to serve them. Then, seek to encourage and help those slightly farther outside your bedroom door. Although the pandemic has changed the way we do many things, there are numerous ways to offer worth and dignity to others in your current circumstance. For example:
Make eye contact with a store clerk and offer a genuine "Thank you!"
Take time to call your friends to see how they are coping.
Engage in volunteer opportunities that have developed—sew masks, distribute boxes at a food bank or send a letter to someone in your church who is isolated.
Write postcards of encouragement to nursing home residents.
Reach out to your pastors to encourage them and ask how you can help.
Develop these habits now, right where you are. Then, carry them with you as you prepare for and arrive on the field. Pursue goodness now because reaching least-reached communities requires the same action, often in the midst of jarring culture shock.
Ask God to use this period of isolation as a training ground. Not only can spend some of this time exploring opportunities for cross-culture ministry or doing some reading that will help prepare you for the field; you can practice living out goodness in ways that will equip you to serve well in the future.
After this pandemic has passed, what if you could look back on this time of quarantine as a time when you cultivated habits of goodness? Months or years down the road, whether you find yourself overseas or on another mission field, you will not regret the steps you're taking now to move beyond your anxiety and self-focus.
In all of life as well as in this quarantine, you will never wish you showed less dignity to others. You won't regret time spent offering worth to others. The skills of acting out goodness will follow you through your life, wherever it leads.

Laura lives in Lancaster, Pennsylvania, where she freelances in various capacities, leads worship at her church and hangs with her adorably photogenic dog named Kimchi. She's well acquainted with the chaos of trying to determine what to do in life.
Laura went to Bible college, where she explored cross-cultural ministry through classes, conferences and lots of practical application. After college she went to grad school, taught, went to South Korea for a year, worked for Christar, then spent a good chunk of the last decade working with international students in high school and college in the U.S.
She would love to journey with you as you consider missions—because she's been there. Because reaching the nations is going to look different than it did in centuries past. And she wants you to be a part of it.