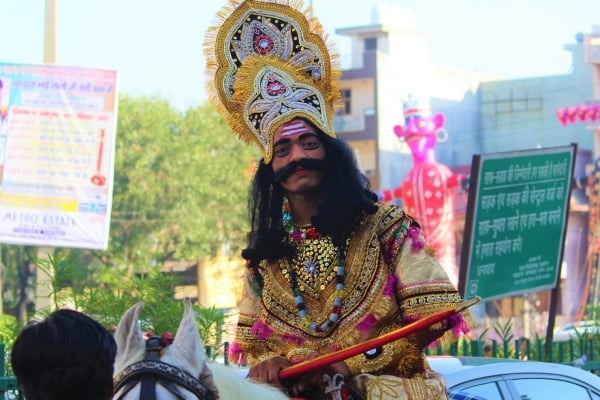 Dussehra: Retelling the Story, Waiting for Victory
It's a day for celebration. Across the world, Hindus are preparing. Throughout the past week, flammable giants have appeared, leering over the traffic and confusion of South Asia's crowded roads. These demons stand waiting lifeless and silent for this night. Soon the chariot will arrive, carrying Ram, resplendent in his lavish costume. Accompanied by Sita, his virtuous wife, and Lakshmana, his brother, he will ride through the streets lined with cheering devotees eager to join the procession.
The stories will be retold. Children will dress up to reenact this tale of the Ramayana. True to the story, Ram (the seventh incarnation of the Hindu god Vishnu) will rescue his beloved wife from the evil demon king, Ravana.
Flaming arrows will soon ignite the demons. "Victory!" the crowds will cry. "Good triumphs over evil!" Together they will immerse themselves in the collective revelry of over a billion people around the world. Fireworks will blaze and loudspeakers will beat a rhythm of triumph and festive celebration through the streets, walls and collective consciousness of the worshipers. "Victory! Truth is stronger than lies."
Slowly, flames will reduce the massive effigies to smoldering piles of ash. Crowds will return home to snatch sleep from what is still left of the night. The night watchmen will doze on their corners, shrouded in their shawls against the chill that creeps through the stillness as winter approaches.
In the morning the sweepers will arrive with their brooms, smoothing the packed earth and clearing the remnants of fiery celebration. Idols that have adorned homes for the past 10 days will have been respectfully immersed in the local rivers and streams, and life will proceed. The cycle will continue. Life. Death. Poverty. Wealth. Souls moving through the duty of their existence seeking victory, triumph, wealth, wisdom, relief. Release.
This is Dussehra, the 10th day of Navratri. For Hindus, this is the culmination of 10 days of worship, purification and introspection. It marks the beginning of another season of festivals, celebrating the sacred and seeking the divine through worshipful devotion.
Participate by Praying:
Pray for opportunities for Christar workers and local believers to speak of Jesus, who rescued His bride and conquered death forever.
Pray many Hindus will come to know the Light of the World.
Pray for spiritual protection and boldness for believers whose families do not share their faith.