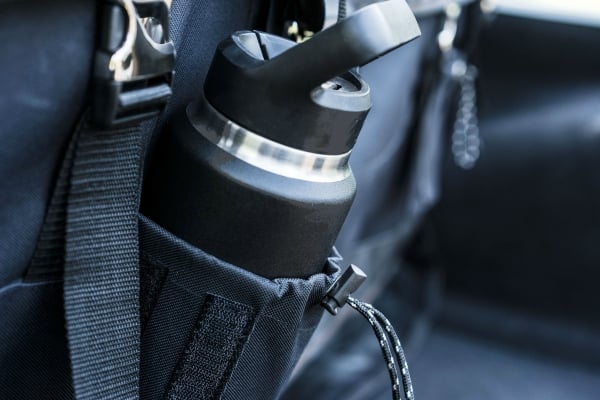 Ten Smart Additions to Any Suitcase
Christar workers tend to be frequent flyers and have picked up a lot of good pointers along the way. Here are a few of our favorite things to pack, including ways to make each addition to your suitcase even better when you're traveling overseas.
An Empty Water Bottle
Why: When you're traveling, especially across time zones, staying hydrated is an essential part of combatting jet lag. An empty water bottle can go through security without trouble; once you're inside the airport, just fill it up. On the plane, ask for a bottle refill instead of depending on the tiny cups of water doled out at mealtimes.
How can you make it even better: Bring single-serving drink powders to add flavor.
2. Neck Pillow (inflatable)
Why: Some may argue this isn't worth the space, but there are some great inflatable pillows out there and you need all the help you can get in finding rest on those long-haul flights.
How you can make it even better: Add a simple eye mask, ear plugs and/or a calming playlist. Getting enough sleep on the flight makes a massive difference.
3. Travel Scale
Why: You don't want to overdo it with the weight of your suitcase—both your body and your wallet will pay the price.
How you can make it even better: Read this list for tricks to pack lighter.
4. Scarf
Why: It doubles as a blanket or pillow to keep you comfortable on the plane or during an uncomfortable layover.
How you can make it even better: Pack a lot of solid colors and think of the scarf as an accessory that can compliment those solid colors during your trip.
5. Almonds
Why: This is a healthy go-to snack that will rescue you from inevitably poorly timed hunger pangs of travel and jet lag, and it doesn't take up a lot of space.
How you can make it even better: Throw a handful of chocolate chips in the almond bag to give you a little burst of sweetness as needed.
6. First Aid Kit
Why: Because you will get a paper cut at the most inopportune moments.
How you can make it even better: Add some essential oils to the mix. Peppermint is great for staying awake, lavender helps you relax. Remember, of course, that liquids in carry-ons need to adhere to carrier guidelines!
7. Sewing Kit
Why: Unless you want to bring your entire wardrobe as a contingency plan (a bad idea), be prepared to do some simple mending.
How you can make it even better: Add a few safety pins, iron-on fabric patches and a bit of duct tape rolled around a drinking straw to the kit, as these will work wonders in temporarily solving a variety tears in a bind.
8. Baby Wipes
Why: Your seatmate will thank you.
How you can make it even better: There are shower wipes out there that will (almost) give you the illusion that you've taken a shower even if you're on a layover after a 17-hour flight.
9.
A Few Carabiners
Why: These devices can be useful for clipping objects like a water bottle or sweater to your bag, keeping your hands free at crucial moments and helping you stay organized inside and outside your bag.
How you can make it even better: You can clip your bag to your sidewalk café chair or train seat for added security as well.
10. A Purpose
Why: One of the smartest things you can take with you on any excursion is a reason for going that has eternal implications.
How you can make it even better: Check out these opportunities to serve around the world with Christar!