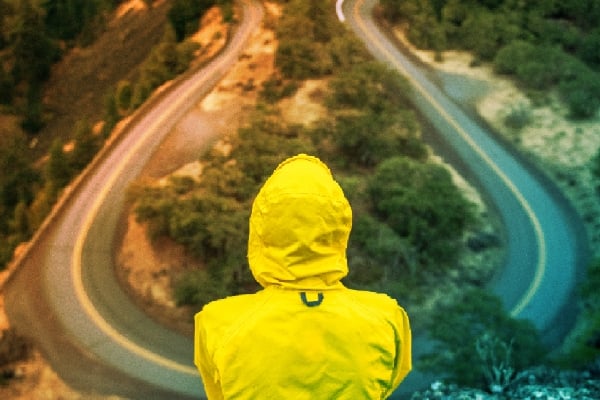 Pause, Look Back, Look Ahead
On New Year's Eve, I sat sleepily on my coach with my dog at my side, watching the obligatory Times Square Ball Drop. For me, 2019 was hard and I was happy for a sense of a restart. January can be about setting lofty goals, but I haven't made any this year. More than anything else, I've started the year by sitting quietly, lost in my own thoughts.
Right now, my dad is really sick. It makes me incapable of clear-mindedness. Instead, my thoughts slosh around in a sludge of panic. It's devastating to watch my healthy dad lose his strength and his memory. It breaks my heart.
It's easier to suppress the pain and I typically opt for that. But this week, I've let myself pause and wade into the cold reality of it. It's been necessary and therapeutic.
Are you struggling with pain as you start this new year? Is there some disappointment or regret that is clouding the horizon ahead of you? Or was 2019 your very best year yet? Are you still basking in the success of things going just the way you had envisioned them? Maybe, probably, you are bringing some of both into this new year. Stop for a second. Take time. Sit there. Be present exactly where you are, and know the One who is there with you.
This too is part of your preparation. As you prepare for a long- or short-term assignment overseas, there will be times when life doesn't fit your expectations. When you reach the field, that season of transition can feel more like a constant state of being. Become skilled in being still. Learn what it feels like to be present in joy or pain or loss, and to embrace them as things chosen for your training and your good by your Heavenly Father.
Next month, we'll continue to look at the fruits of the Spirit. But today, I wanted to encourage you to pause and reflect on your current place. Acknowledge your pain. Hold loosely your expectations. Frame your circumstances with truth, not your feelings.
We don't get to know our future, but we get to trust the One who does.

Laura lives in Lancaster, Pennsylvania, where she freelances in various capacities, leads worship at her church and hangs with her adorably photogenic dog named Kimchi. She's well acquainted with the chaos of trying to determine what to do in life.
Laura went to Bible college, where she explored cross-cultural ministry through classes, conferences and lots of practical application. After college she went to grad school, taught, went to South Korea for a year, worked for Christar, then spent a good chunk of the last decade working with international students in high school and college in the U.S.
She would love to journey with you as you consider missions—because she's been there. Because reaching the nations is going to look different than it did in centuries past. And she wants you to be a part of it.