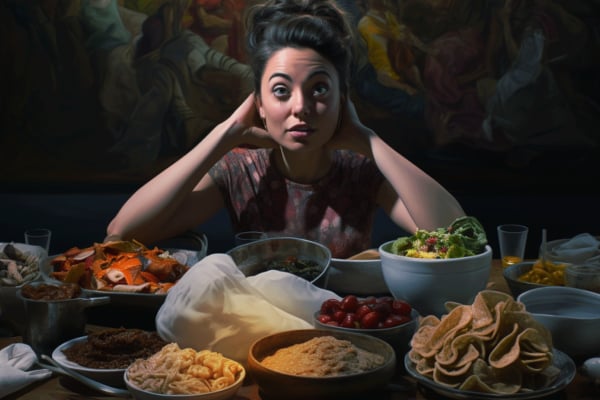 When a Meal Can be a Minefield: Navigating Food Restrictions on the Field
Food is a catalyst for connection. This can be seen in every culture, but it's especially true in many least-reached communities. Meals and cups of tea open doors for deep conversations, and hospitality is a language through which honor, respect and love are conveyed.
But what if eating the dishes over which relationships are built could make you sick or send you to the hospital? What do life and ministry look like when food allergies or dietary restrictions can turn a meal into a minefield? Is serving cross-culturally when you have these limitations even doable?
Hillary,* a Christar worker serving in the Middle East, says that answer is likely yes. She knows from experience. A few years after arriving on the field, her health began to deteriorate, and eventually the pain and brain fog became debilitating. After five years, she learned the cause of her suffering: poisoning from mold in her apartment. But knowing the reason didn't mean there was an easy solution.
Helping her body heal involved, among other things, adhering to a very strict diet—one that didn't include most of the foods that are central to her host country's spirit of hospitality. "In a culture where you respect people by eating their food, it's tricky," she admits.
But, she says, it's still possible to connect with people and show them respect and love, even if you need to be careful about what you eat. She gave the following tips for navigating dietary restrictions on the field.
Decide ahead of time.
Before going to the field, be sure you have a clear understanding of the severity of your dietary restrictions and determine the boundaries you want to set. Know if you need to completely avoid all traces of certain foods or just steer clear of them most of the time. Then, decide if and when you want to make exceptions.
In some cases, exceptions simply aren't an option—for example, if you have a severe peanut allergy. But in other instances, you may be able to be a little less stringent. For example, the sugar that triggers your migraines might not be a big problem in an occasional dessert. So, you may determine that you'll avoid it completely at home but accept small portions of sweets when you're in a national's home.
Whatever you decide, communicate your boundaries clearly and consistently, and be sure to stick to the guidelines you set. Hillary shares that never caving in, even on birthdays or holidays, helped minimize the pressure she felt to eat foods she knew would make her sick. "The second I give in—the second I say, 'It's a special day; I'll eat some cake,'—is the second that that pressure is going to come back," she advises.
Hillary adds that mentioning your doctor's instructions may help you communicate your needs in a way that's accepted in your host community. She explains that while every culture is different, saying "I need to do what the doctor says" often works well in places where experts are highly respected and decisions are made by the group rather than the individual.
Ask for support.
Before you head to the field, talk to people who serve in the country where you'd like to go and ask about the foods that are readily available and commonly served. Explain your limitations and ask if living with those restrictions is doable in their culture. Chances are, Hillary says, they'll say yes.
Once you know where you'll be serving, connect with your future teammates and ask them to come alongside you as you figure out how to navigate common social situations involving food in ways that show respect to others while staying within the boundaries you've set. Make sure they understand the severity of your dietary restrictions, and ask them to serve as advocates for you in situations in which you're being pressured to eat something you can't have.
In some cultures, things like gluten intolerance or dairy allergies aren't widely understood, and you may need to explain your limitations differently than you would in the United States. Your team can help you figure out the best way to communicate your needs. For instance, when a short-term worker who didn't speak the local language needed to avoid dairy products, Hillary made a list of foods she couldn't eat that she could show in restaurants and homes.
Embrace opportunities to explore local produce.
You probably won't find prepackaged "allergy-friendly" items in your host community, but you'll almost certainly have access to fresh fruits and vegetables—foods that most people with health restrictions can eat. And many times, they're available more abundantly and affordably than they are in the United States.
While cooking from scratch with fresh food is more time-consuming than leaning on convenience products, it makes sticking to your boundaries doable. And you might discover new ingredients you love!
Get good care before you go.
Sometimes an allergy or intolerance isn't just a food issue. As Hillary knows, it can be a sign of a bigger challenge, and knowing if that's the case can help you remain healthy for the long term. She encourages anyone dealing with food restrictions, "Find someone who will look at your whole history, your whole body," especially if you're dealing with an allergy that you developed later in life.
Getting to the bottom of your food challenges and knowing how you can stay well will go a long way when the stresses of cross-cultural life hit. "Stress is always going to make everything worse—and living overseas is stressful. It's awesome, but it's stressful," Hillary explains.
Do what you can for the sake of the gospel.
By God's grace, Hillary is now in a healthier place, and her food choices have become matters of preference rather than necessity. "Now I'm choosing to avoid grains because I don't want them in my life as opposed to 'I can't eat bread because it's going to make me sick.' That's a big difference," she explains. But she adds that when she's served grains in someone's home, she'll eat them to show respect for her host.
Choosing what to eat may never be an option for you. But some food restrictions have gray areas, and if you're dealing with one (or more) of those, it's important to check your motivations. Prayerfully consider why you are avoiding certain foods, especially if you're eliminating them at all costs. While following your doctor's guidance and pursuing good health are certainly vital parts of staying healthy on the field for the long term, God may reveal that your efforts are also partially driven by a desire for control or comfort.
Ask yourself, "Am I willing to set aside some of my preferences to show respect and honor to people who need Jesus?" Or, as Hillary's team leader often says, "What am I willing to do for the sake of the gospel?"
Regardless of whether you need to stick with strict guidelines at all costs or have a little leeway, this is a vital question to consider. In Hillary's case, the answer sometimes involves eating things she hates: "I don't like spicy food at all," she shares. "But am I willing to eat spicy food that I have to choke down for the sake of the gospel? Absolutely!"
Depending on your situation, being willing for the sake of the gospel might mean enjoying the cookies a neighbor bakes for you even though you know you're risking a headache or a rash or despite the fact that those baked goods won't help you shed those few pounds you want to lose. Or it may look like sitting and socializing for hours without being able to enjoy the dish that everyone else is savoring.
Though navigating food restrictions on the field can be challenging, in most communities having an allergy or intolerance is doable! Hillary sums it up with simple advice: "Don't be afraid. Don't live in fear that you can't go overseas because of your restrictions." And be on the lookout for what you can do for the sake of the gospel.
We'd love to come alongside you as you explore your role in what God is asking you to do for the sake of the gospel! Just email [email protected] to connect with us.