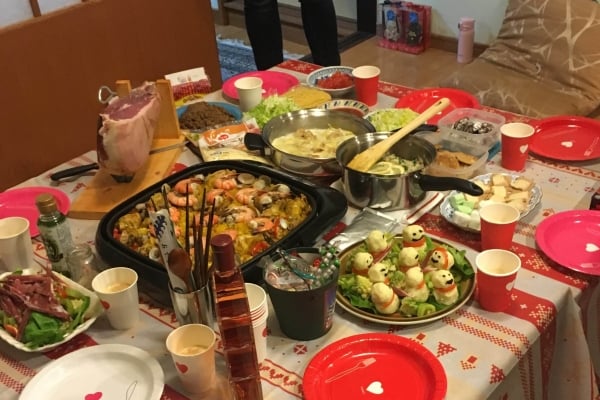 More Than She Imagined: An Internship in Japan
It wasn't what she expected, but as Jane's* internship with Christar progressed, she realized it was much more than she could have dreamed.
"My aunt lived in Japan for 40 years," Jane explains, "and when she visited us she would fill our home with treasures and our minds with stories." God used these early seeds of interest to draw Jane's heart toward the people of Japan. After a vision trip with Christar to Asia in 2013, she felt led to return to Japan and begin sharing the hope of Christ with others. The first step, though, was to start learning Japanese. Jane joined the Christar internship program and spent a year in Japan focused on studying the language and building relationships.
"Twenty hours a week were spent in classroom language study," she says. This gave her frequent opportunities to interact with her instructor and move the conversation from basic greetings to deeper truths. "One time I brought up some stories from the Bible, and my teacher responded by admitting that she felt her own life was meaningless. That gave me the opportunity to talk about how the Creator God sees her and loves her."
The Lord didn't just give Jane opportunities to share with her teacher. New friends came from a variety of Asian countries including Laos, Vietnam, Thailand, China and Cambodia. "I thought I would be reaching Japanese people, but God opened up ministry doors to those from regions I would never have imagined!" Havika, a young woman from Laos, became a good friend. Since her mother was Christian and father was Buddhist, Havika was able to understand many of the truths Jane shared. "I pray God will use our conversations to draw Havika to Himself," Jane says.
Jane also became friends with Yoko, a teacher, who so loved the stories of the Bible that she wanted to learn how to teach them to others when she moved to another country in Asia. Not yet a believer, Yoko practiced her English with Jane and eagerly listened to examples of ways Christ works in the lives of those who put their faith in Him alone.
Jane was able to practice her fledgling Japanese through outings, events and holidays spent with Japanese young adults. They made gingerbread houses. At Easter they dyed eggs. And during the cherry blossom season they had picnics in the park together. Jane met most of the group through a young woman named Keiko, who included Jane in her own wide network. "I was really blessed to have these friends. Most had no concept of Jesus and I was able to begin introducing them to Him."
Having completed her internship, Jane has returned to the United States and is eager to see how God leads next. She believes she will continue to serve cross-culturally and hopes to return to Japan. "Everywhere I went there, the rice fields reminded me over and over again to pray to the Lord of Harvest to send laborers."
"I am very glad I did this, and am glad to have done it through Christar," Jane explains. "People in the organization really care about you and pray for you. You know they really want you to know and follow God's plan, even if He doesn't lead you to serve with them." She also offers advice to those considering short-term cross-cultural service: "Make sure you have a strong walk with God as a strong foundation. And belong to a church that supports you, not just financially but spiritually and emotionally. Have a plan on how to deal with things when you feel overwhelmed or disappointed." Language barriers and the awkwardness of living in an unfamiliar culture can create times of loneliness, Jane admits.
"But," she adds, "it is so worth it. I have these great new friends, and I trust God will use my time with them to begin opening their minds and hearts to Jesus."
Participate by Praying:
Lift up those considering long-term cross-cultural service, that they will have a clear sense of God's direction.
Ask God to give those currently serving in short-term roles or internships many opportunities to share His truth and love.
Pray that long-term teams working in Japan will see fruit from their ministries.