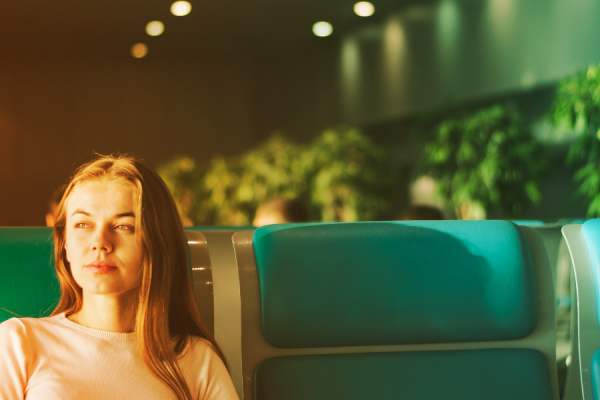 More Than "Just Enough"
I went to see my dad today. Because of COVID-19, no visitors are permitted inside his assisted living facility, and we can talk only through a pane of glass. It was 96 degrees and humid as I straddled a bush and pressed against the building to shade myself from the relentless sun. In order to hear my father's voice, I bent down to shin level and listened through the three-inch crack in the low window. I pressed my face against the glass to block out the glare of the sun and shouted so he could hear me through my mask.
A year ago, this scene would have seemed absurd. A lot has changed in a year.
As I look back on my monthly letters walking through the fruits of the Spirit in the context of considering missions, I'm struck by how my life circumstances have called for refinement in these nine aspects of spiritual maturity. Last summer, I couldn't have predicted 90 percent of what I've faced this year (let alone what the world has faced). I know love, joy, peace, patience, kindness, goodness, faithfulness, gentleness and self-control are vital for a life that honors God. But, within the context of messy, busy life, real growth requires intentionality.
In the past year, my father received a diagnosis for a debilitating disease and moved to an assisted living home in the midst of a global pandemic. This has been exceptionally hard. In this same time frame, I became a business owner, an endeavor that's been time-consuming, rewarding and exhausting. It has completely altered my schedule and given me ample opportunity to practice these fruits as a boss and with customers. The pivots to and from massive disappoints and huge celebrations have kept me on my toes this year.
How about y'all?
Take a moment and consider your journey during these last 12 months. What have you learned from your disappointments and celebrations? How have you honored God with the growth of these fruits in your life? Which fruits remain underdeveloped?
Circumstances provide opportunities to practice the fruit of the Spirit. But they can also provide an excuse for complacency. In a pandemic, or in the rush of school or in the midst of a relative's illness, it's easy to just squeak by when it comes to intentionally pursuing spiritual maturity. It's tempting to do just enough. However, "just enough" doesn't lead to lasting growth.
You likely won't get better at love (or the rest of the fruits) if you aren't making an effort to grow and to let the Holy Spirit transform you into a person who better reflects Christ. This is true now. This will be true next year. And it will continue to be true regardless of the degrees you earn, your marital status or your geographical location. If one day you are an esteemed retired overseas worker with years of experience on the field, but you haven't sought to grow in patience or gentleness, you will not be well-practiced in those fruits just because your title implies you ought to be fluent in them. Your status doesn't infuse you with the fruits of the Spirit.
Are you content with how you've shown love, joy, peace, patience, kindness, goodness, faithfulness, gentleness and self-control this year? Are you walking in the Spirit or just crossing your fingers and hoping you'll squeak by? Are you abiding in Jesus' love and compassion or are you dependent on your own ability to cultivate Christlikeness?
As I bent over in the bush by my dad's window today, the profound implications of love's inconvenience struck me. His mind is leaving him, and his behavior is difficult to witness. So many things in my life are not what I imagined they would be. I suspect we could all say that. But God is faithful. He is worthy of our worship in every aspect of our lives. He is kind and patient and entirely good. He is the perfect representation of the fruits He asks us to live by.
As we start a new school year, we face many unknowns; but we can be certain that we will be presented with opportunities to grow—and equally sure that God will graciously work in us as we seek to grow. Will you join me in committing to more than "just enough"?

Laura lives in Lancaster, Pennsylvania, where she freelances in various capacities, leads worship at her church and hangs with her adorably photogenic dog named Kimchi. She's well acquainted with the chaos of trying to determine what to do in life.
Laura went to Bible college, where she explored cross-cultural ministry through classes, conferences and lots of practical application. After college she went to grad school, taught, went to South Korea for a year, worked for Christar, then spent a good chunk of the last decade working with international students in high school and college in the U.S.
She would love to journey with you as you consider missions—because she's been there. Because reaching the nations is going to look different than it did in centuries past. And she wants you to be a part of it.