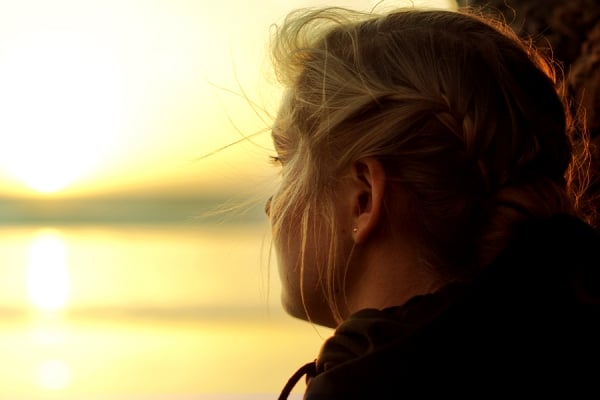 Life in the Midst of Loss
My father died on September 13. He was a stubborn and generous man and I miss him terribly.
This loss has drained me of the energy to carry out normal life. Even as I write on this theme of "stuck," the wound feels too raw to touch. Yet, my loss is tragically relevant to what I planned to share in this month's letter, so I write as much to myself as I do to y'all.
Some loss is like losing our footing and other loss is like losing a limb. However, in both cases, the permanency of a loss can disrupt our assurance and give us pause. We ask, "How do I go on from here?" We may question our dreams and our future. The complexities of grief, like glue, can stick to us like badges of pain. If we do not acknowledge that pain and work through it, those badges will remain with us throughout life. Healing requires grappling with our grief.
Thankfully, we are not called to do this alone. Praise God for His kindness and goodness. He is near to those who are hurting.
"Then I called on the name of the LORD: 'LORD, save me!' The LORD is gracious and righteous; our God is full of compassion. The LORD protects the unwary; when I was brought low, he saved me. Return to your rest, my soul, for the LORD has been good to you." (Psalm 116:4-7, NIV)
The Lord has been good to us. Even when that isn't how it feels in the midst of grief.
Whatever losses you have experienced, consider if you still have work to do in the grieving process. In this past year, we have had ample opportunities to feel disappointment—and this is likely especially true for those of you preparing for the field. Did a training conference switch to a virtual experience? Did someone you were certain would financially support you turn you down? Has a relationship suffered because of your call to missions? Has your timeline to depart to the field been skewed significantly because of COVID-19?
Our God is full of compassion—in our current grief and in the losses we will experience in the future.
As you consider how God is calling you to serve, what grief do you anticipate? Do you expect to miss birthdays and significant life events with loved ones because you're thousands of miles away? Have you wrestled with the possibility that you may experience war, political conflict, exile, serious illness, rejection or family tension, as well as heartbreak and disappointment? And, are you resting in the truth that our compassionate God will not leave you alone as you grapple with grief and that He will, through that work, bring about healing?
My dad is gone. I can no longer ask him for advice on buying tires or inquire why my water heater is making a particular sound. We have lost his presence in future holidays. I will turn 39 without him. I've spent the last few weeks processing these truths, but I still have a lot to do to work through the grief of this massive loss.
Yet the Lord is gracious and righteous. I am deeply thankful for my relationship with Christ in a time like this.
This has been a year of collective loss for many people. But even in "normal times," none of us is exempt from disappointment, heartache and pain. Loss is inevitable in a life well lived. As we each seek to love God and love others well, I pray we will take the time necessary to work through our grief so we can find healing. I'm grateful we worship a God who is in the business of healing and restoration.
"I love the LORD, for he heard my voice; he heard my cry for mercy. Because he turned his ear to me, I will call on him as long as I live." (Psalm 116:1-2, NIV)
We serve a God who hears our cry for mercy, and we can call on Him for as long as we live—here and now, and wherever He calls us. Thank you, Lord.



Laura lives in Lancaster, Pennsylvania, where she freelances in various capacities, leads worship at her church and hangs with her adorably photogenic dog named Kimchi. She's well acquainted with the chaos of trying to determine what to do in life.
Laura went to Bible college, where she explored cross-cultural ministry through classes, conferences and lots of practical application. After college she went to grad school, taught, went to South Korea for a year, worked for Christar, then spent a good chunk of the last decade working with international students in high school and college in the U.S.
She would love to journey with you as you consider missions—because she's been there. Because reaching the nations is going to look different than it did in centuries past. And she wants you to be a part of it.