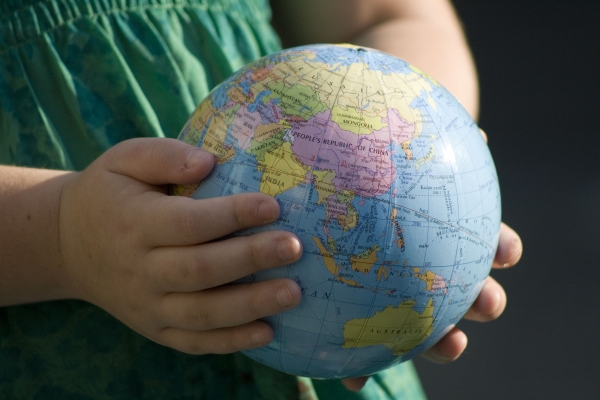 Journey Beyond the Everyday: Introducing Your Children to the Nations
Beautiful [Little] Feet
An ancient Indian proverb says, "Children bind the mother's feet." You may wish you could serve God overseas, but feel bound to your home country by little people who stand about three feet tall, look at you with wide, curious eyes, ask "why" a thousand times each day—and hold incredible potential to impact the world! You're not bound. You're charged: to prepare the beautiful feet of tomorrow's messengers.
How do you train future cross-cultural workers while you're still teaching them to tie their shoes? Here are five ways to start:
1. Introduce them to Jesus!
You can tell your children that ice cream is delicious. You can let them watch you eat it. But they can't fully appreciate its wonderful properties unless they have tasted it for themselves. Tell them about Jesus and pray that they will taste and see that the Lord is good!
2. Be global citizens!
Children are wired to explore, whether in your pantry, the backyard or the ends of the earth.
Buy a globe and a sheet of stickers. Help your kids find their city and other cities and countries they can name. Expand your boundaries through virtual travel. Consider the countries in which their favorite movies and stories are set. Encourage them to get to know international friends from school, especially those who have recently arrived and may need a friend to help them in a new culture. Pray for missionaries living in distant countries. Use those stickers to mark each country you've "discovered!"
As your children's awareness of the world expands, create opportunities to learn more about those places.
Eat your way around the world with foods from international markets or ethnic restaurants.
Go to the library on an information treasure hunt.
Be on the lookout for child-appropriate news articles from the places you've "explored."
Use resources from Operation World or the Joshua Project website to learn about the people of those countries, especially those who don't yet have access to the gospel.
Read workers' stories together as a family. Look for biographies of people God has used in years and centuries past. Learn about what He is doing now through people willing to serve Him among least-reached people.
3. Get to know your neighbors!
Refugees are flooding into cities around the world seeking safety. Students travel abroad for education and global experience. Businessmen in search of better opportunities will gladly resettle their families for the offer of a brighter future. Consider where the "nations" may be living in your city. There are a multitude of ways that you and your children can creatively build bridges into these communities and grow relationships with people from around the world.
Encourage international friendships through hospitality. Instead of minimizing the differences in your cultures, celebrate them! Help your children prepare ahead of time to ask questions in a respectful manner. Be sensitive to dietary restrictions. Make your home a place where people from every nation feel welcome.
Consider reaching out to an international student. Welcome them into your family life and culture.
Look for churches and organizations that offer ESL classes. Children need help with language too, and there may be opportunities for your whole family to help out.
Collect practical items and help distribute them through local relief organizations. Help your children imagine leaving everything behind and think together about what items refugees might need.
4. Be part of the story!
In addition to reaching out to the least-reached people who may live in your neighborhood, look for ways to minister to workers who serve among them.
Collect prayer cards of workers when they come for visits. Learn their stories and read their letters and updates together as a family.
Have workers in your home for a meal. Ask questions about their lives overseas, and about how they do their jobs. Encourage your children to be curious and ask their own questions.
Set aside a time each day to pray for those workers together as a family.
Consider supporting workers financially, and encourage your children to participate.
Write letters or emails to cross-cultural workers. Remember to choose your words carefully if they serve in sensitive countries.
As a family, ask God to send out new workers into the harvest!
5. Ask God to send your kids ... and mean it.
Jim Elliot, who served in Ecuador and was martyred in 1956, wrote to his parents, "Remember how the Psalmist described children? He said that they were as a heritage from the Lord, and that every man should be happy who had his quiver full of them. And what is a quiver full of but arrows? And what are arrows for but to shoot? So, with the strong arms of prayer, draw the bowstring back and let the arrows fly—all of them, straight at the Enemy's hosts."1
Children model discipleship for us. They learn as they go, watching and imitating. As your heart is broken for the nations, as you pray and as you seek to build bridges and walk across with words of everlasting life, your children will watch and learn.
Would you send your children to the least-reached peoples of the world? Will you prepare them now?
Ask the Lord of the harvest to put the nations on your children's hearts.
Participate by Praying:
Pray for the next generation of workers! As they learn the basics of life and relationships, ask God to shape and mold them into effective laborers for His Kingdom!
Pray that parents will faithfully disciple their children with conviction, understanding of the gospel and a heart of compassion for those who have never had the opportunity to hear the gospel.
Pray for encouragement and comfort for parents and grandparents of workers who have sacrificed for the sake of the least-reached.
---