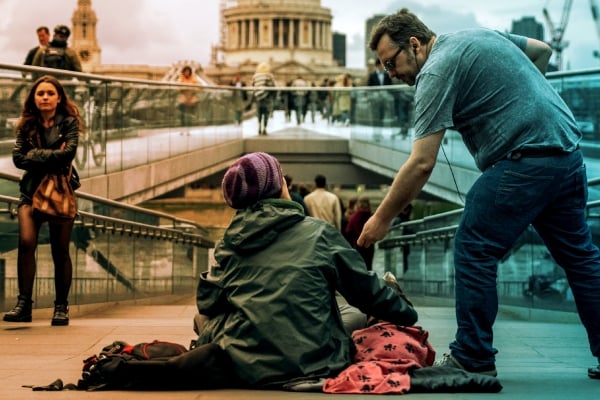 Humanity Is Hurting, Be Kind
Last Sunday, I woke at 6:44 a.m. I found myself lying wide-eyed in my bed wondering why Queen's "We are the Champions" was blasting from a car outside my bedroom window. I'm a morning person, so I wasn't particularly angry, just bewildered by the driver's inconsiderate choice of volume. He listened to all two minutes and 59 seconds of that song at maxed-out volume and then drove away.
I have no idea what that driver's story is. I did sneak a glance at him through the blinds. He looked like a normal guy, not someone going through a particularly epic existential crisis that would call for such inconsiderate decibels. Who knows why he was on my street; but then again, who knows what any one of the humans we encounter each day are actually going through, right?
We are all so breakable, all so raw. Humanity is hurting in a million ways. Mass shooters, viruses, broken relationships and even quiet rejection can terrorize us. Yet, as followers of Christ, we have hope.
We know there is more to life than fear, and that propels us toward action—kind action. Christ was kind. Continuously in Scripture, we see Jesus anticipating the needs of others, healing, comforting, speaking truth and restoring brokenness. He was radically kind.
Our kindness (or lack of it) will seep through in the ways we interact with others, in how we embrace the hope we have in Christ and let it inform our life and our choices. Kindness is the vehicle of hope, grace and truth, moving us to live God's mission in our lives, whether overseas or in our everyday normal. We live in a world starved of kindness, and too often, we can look at that scarcity and add to it as we hoard what we have received.
Just as I don't know the story of the guy with a taste for loud morning music outside my house, we simply don't know what people are facing when we encounter them. That's true now; that's true on the mission field; that's true wherever you land. We must be radically kind. We must do it so that as we reflect the kindness of God, like Christ, we learn to anticipate the needs of others, to speak so that the humans in our life encounter grace, hope and truth.
Sometimes that means we let the person finish the song at full blast; other times we remind them it's barely dawn on a Sunday. People are hurting and we have so much kindness to offer them. Let's do it.

Laura lives in Lancaster, Pennsylvania, where she freelances in various capacities, leads worship at her church and hangs with her adorably photogenic dog named Kimchi. She's well acquainted with the chaos of trying to determine what to do in life.
Laura went to Bible college, where she explored cross-cultural ministry through classes, conferences and lots of practical application. After college she went to grad school, taught, went to South Korea for a year, worked for Christar, then spent a good chunk of the last decade working with international students in high school and college in the U.S.
She would love to journey with you as you consider missions—because she's been there. Because reaching the nations is going to look different than it did in centuries past. And she wants you to be a part of it.