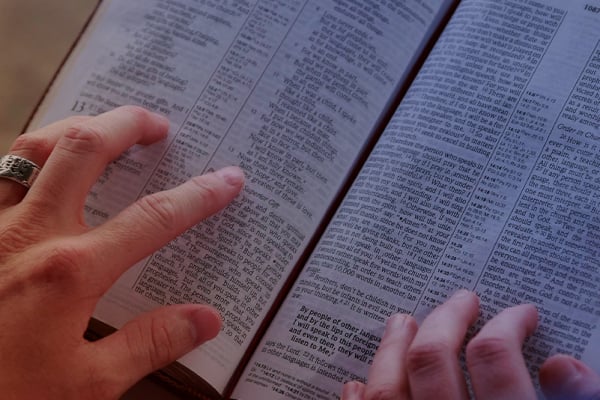 Changed by the Familiar: Encountering Missions in the New Testament
If you ask a group of Christians serious about their faith to name Bible verses on missions, there's a good chance that most—if not all—of them will name one of a handful of common New Testament passages. If you grew up in church, you likely heard these verses over and over, quoted at conferences and mentioned in sermons about the Great Commission. They're the ones printed on banners at campus missions weeks and slapped on social media images.
They're the missions verses we're most likely to know by heart. But have they changed your heart?
It's easy to nod along in agreement when we hear familiar passages like these without pausing to allow them to do more than cause a brief blip of recognition as they pass between our ears. When was the last time you engaged with them slowly and prayerfully and invited them to do what they were written to do?
Whether you've heard them a thousand times or are just discovering what the Bible has to say about taking the gospel to the ends of the earth, read them—not just with your mind, but with your heart. Ask God to open your eyes to what these verses mean in today's world and how they impact your life as a follower of Christ.
Luke 10:2
"The harvest is plentiful, but the workers are few. Ask the Lord of the harvest, therefore, to send out workers into his harvest field."
How does knowing that the harvest is plentiful but the workers are few impact you?
When was the last time you asked God to raise up more of His people to take the gospel across cultures?
Matthew 28:18-20
"Then Jesus came to them and said, 'All authority in heaven and on earth has been given to me. Therefore go and make disciples of all nations, baptizing them in the name of the Father and of the Son and of the Holy Spirit, and teaching them to obey everything I have commanded you. And surely I am with you always, to the very end of the age.'"
In His commissioning statements to His followers, found in every Gospel and the book of Acts, Christ commands His followers to take the good news to the nations. How does this command apply to you as a follower of Jesus?
Romans 1:16
"For I am not ashamed of the gospel, because it is the power of God that brings salvation to everyone who believes: first to the Jew, then to the Gentile."
Can you honestly say that you aren't ashamed of the gospel?
What fears might be standing in your way as you consider your role in the Great Commission?
Romans 15:20
"It has always been my ambition to preach the gospel where Christ was not known, so that I would not be building on someone else's foundation."
Throughout the book of Acts, Paul sets an example of taking the gospel to people who don't yet know of God's gift of salvation; and in Romans 15:20, he shares his motivation. Are you motivated to give people who haven't yet heard the message of Christ access to this good news?
Is there any way God is asking you to take action now?
Romans 10:14-15
"How, then, can they call on the one they have not believed in? And how can they believe in the one of whom they have not heard? And how can they hear without someone preaching to them? And how can anyone preach unless they are sent? As it is written: 'How beautiful are the feet of those who bring good news!'"
Paul's logic makes the reality of the least-reached crystal-clear: People who've never been introduced to Jesus can't call on Him for salvation; and unless someone is sent to share the gospel with them, they'll never have this opportunity. How does this reality impact you?
Have you ever asked God what it would look like for you to have "beautiful feet"?
Revelation 5:9
"And they sang a new song, saying:
'You are worthy to take the scroll
and to open its seals,
because you were slain,
and with your blood you purchased for God
persons from every tribe and language and people and nation.'"
How does knowing that Jesus gave His life for people from every nation—including people who don't yet know His name—change your perspective?
Revelation 7:9
"After this I looked, and there before me was a great multitude that no one could count, from every nation, tribe, people and language, standing before the throne and before the Lamb. They were wearing white robes and were holding palm branches in their hands. And they cried out in a loud voice:
'Salvation belongs to our God,
who sits on the throne,
and to the Lamb.'"
All of Scripture, from the early chapters of Genesis, is saturated with God's heart for the nations—a purpose that culminates in Revelation as people from every tribe, people and language worship Him around His throne. How does knowing the end of the story change your desire to be part of it?
These verses weren't intended to be merely memorized. They're the living Word of God, written to infiltrate the deepest parts of us: "For the word of God is alive and active. Sharper than any double-edged sword, it penetrates even to dividing soul and spirit, joints and marrow; it judges the thoughts and attitudes of the heart." (Hebrews 4:12) Have you invited them to change you?
If you're considering how passages like these apply to you, we'd love to come alongside you! Email [email protected] to connect with us.
Scripture taken from the Holy Bible, NEW INTERNATIONAL VERSION®, NIV® Copyright © 1973, 1978, 1984, 2011 by Biblica, Inc.® Used by permission. All rights reserved worldwide.