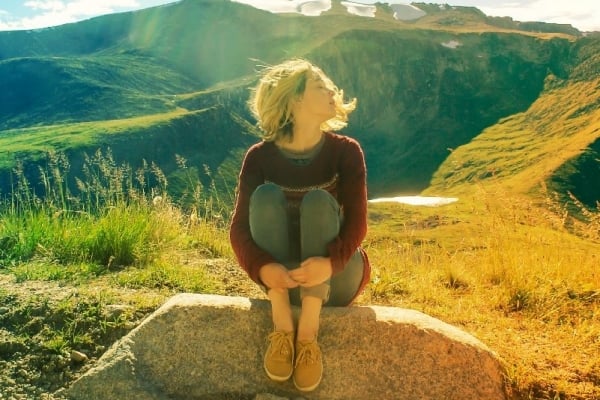 A Steadfast Story and Solid Ground
Here's an excessively brief storyline of God's faithfulness in my life:
Risky surgery on my skull as an infant
Kidney disease as a kiddo
A humiliating speech impediment
Through all that, God was faithful.
Bible college with no idea where to focus
A vision for starting some kind of café ministry
A love for words and storytelling
A hatred of being boxed in
God remained faithful.
A decade of working with international students in the U.S.,
burnt and burned out by the end
An abiding love for hospitality
A desire to be my own boss
Still unsure of what to do with all my idealistic dreams
An unfulfilled desire to marry
God has been present in it all, absolutely, fully faithful.


My life isn't textbook successful. Through three-plus decades, I've chased a million ideas that got away from me. I've never known what I wanted to do when I grew up, except for this: I've had an unshakable longing to honor and love God through my life. This is the heartbeat that rings true for every cross-cultural worker. The plans of tomorrow are not certain. But God is.
I co-led a mission trip once. I ran a youth group for a stint. I've played my guitar for worship sessions a million times. I've dreamed of what God could do through me; but honestly, this doesn't feel like the stuff of heroes. Likewise, perhaps your dreams of service go unpraised by your parents because it's "not a real job." And, once you reach the field, your rigorous work might yield little visible fruit. But, cross-cultural service isn't about glamour. It's about God's glory. The climax isn't what we do, it's the sure certainty of our faithful God breaking through the daily reality of sin-stained, longing humanity to rescue the dead and restore life.
As I write this, we are in the thick of the COVID-19 pandemic and because of it, my newly opened café is shut down. My earnings from Airbnb have stopped. On top of that, my dad is dealing with a devastating illness. Anxiety is a thin, cracked wall away. I can feel it haunting me. Even in this heaviness, God is faithful. It's a truth that rings louder than all of the "what ifs" in my ears. It's a foundation. Even if that wall cracks and the fears become realities, God's faithfulness is the firm ground under my feet.
I think of how He has kept me from stumbling from truth. I consider how He's helped me redefine my understanding of what "counts" as serving Him. I rejoice as I remember how He's healed me and protected me. I recall how He's prevented me from impulsive ideocracy and how He's whispered wisdom in my ear at the right moments. I praise Him for putting friends in my life and for taking them away. I know He's humbled me through struggles and said "no" at times so He could instead give me what I didn't know I needed.
Are you stuck? Are you unsure? Are you confused and conflicted? Are you discouraged? Throughout the story arc of your life, will you be faithful to His call even so? Allow Him to write the story of His faithfulness through every page of your life, where others will read it. That story may sound tragic, broken or even mundane in the day to day, but the prevailing theme of God's faithfulness is anything but.
He who has called you—and me—is faithful. My journey and yours are living testaments of God's consistent message to humanity. He is faithful. At home now, or on the field later, this story is one that that the world needs to hear.
"May God himself, the God of peace, sanctify you through and through. May your whole spirit, soul and body be kept blameless at the coming of our Lord Jesus Christ. The one who calls you is faithful, and he will do it." (I Thessalonians 5:23-24, NIV)



Laura lives in Lancaster, Pennsylvania, where she freelances in various capacities, leads worship at her church and hangs with her adorably photogenic dog named Kimchi. She's well acquainted with the chaos of trying to determine what to do in life.
Laura went to Bible college, where she explored cross-cultural ministry through classes, conferences and lots of practical application. After college she went to grad school, taught, went to South Korea for a year, worked for Christar, then spent a good chunk of the last decade working with international students in high school and college in the U.S.
She would love to journey with you as you consider missions—because she's been there. Because reaching the nations is going to look different than it did in centuries past. And she wants you to be a part of it.