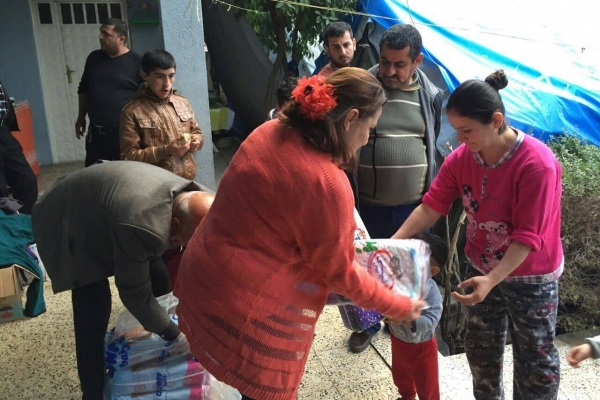 Ever-Growing Opportunity, Ever-Growing Need
The refugee crisis continues to dominate the news. But rarely reported are stories of God at work in the midst of it!
From the Middle East to Europe to North America, Christar workers serving among refugees are reporting evidence of God's hand. As our workers partner with local churches to meet the needs of displaced people, they find that many are hungry for the hope found only in Christ. We praise God that more and more are embracing the gospel and finding refuge in Him.
Walt,* who ministers among the displaced in Europe, shares that God has been opening door after door to share the gospel, and has blessed him with the privilege of seeing refugees trust in Christ. Walt recalls,
One young man professed faith in Jesus and prayed to receive Christ as his personal savior. He is a brilliant young man who studied law back in Syria. On the day of his conversion, I [talked] to him for a couple hours about his depression. Later that evening, another worker prayed with him for salvation. On that same day, I had the chance to share the gospel with a Yazidi man. … He was practically begging me to share the gospel with him.
As Walt and many workers like him tell displaced people about Jesus, they're seeing many of these refugees eagerly receive the good news and place their faith in Christ. Last year, one church plant in a refugee community in the Middle East baptized over 40 believers! And several workers report that displaced people who've become believers are now reaching out to their fellow refugees.
The number of refugees worldwide is higher than ever recorded, and it continues to grow. According to the UNHCR, the UN Refugee Agency, more than 65 million people are now displaced. In 2016 alone, 10.3 million people were newly displaced from their homes.
These record numbers represent an ever-growing opportunity to reach out to people who've never heard the gospel. The majority of displaced people come from countries with few believers—and few opportunities to hear the good news of Jesus. Believers in their host countries have extraordinary open doors to share the good news. Christar workers are partnering with these local Christians in many areas to meet the increasing physical, emotional and spiritual needs of refugees, all while conveying the everlasting hope that's only found in Christ.
When Walt visited a coffee shop outreach to refugees run by local Christians, he saw this expanding opportunity firsthand:
I think it was one of the most intense few days of evangelism that I have ever engaged in. … Somewhere between 300-500 people would come a day. I would literally go from person to person, nonstop, from the time that the coffee shop would open until it closed in the evening, sharing the gospel, giving Bibles/tracts, streaming evangelistic material to mobile phones and downloading apps in refugees' languages onto refugees' phones. … From what I counted, I had the chance to share the gospel with between 35-40 people a day. … The harvest truly is plentiful, and the workers are few.
From refugee camps in the Middle East to the doorsteps of believers in the West, the harvest among refugees continues to grow. Ministering in the midst of this growing opportunity requires both more workers and more resources. Will you help us continue to minister to least-reached refugees?
Participate by Praying:
Praise God for opening the hearts of many refugees to the gospel as they experience God's love through the compassion of His followers.
Ask the Lord to continue to open doors for Christar workers to reach out in refugee communities.
Ask God to provide the funds needed so that workers can continue to partner with local churches to provide aid to refugees.
Pray for wisdom for workers as they seek to meet the massive physical, emotional and spiritual needs of displaced people.