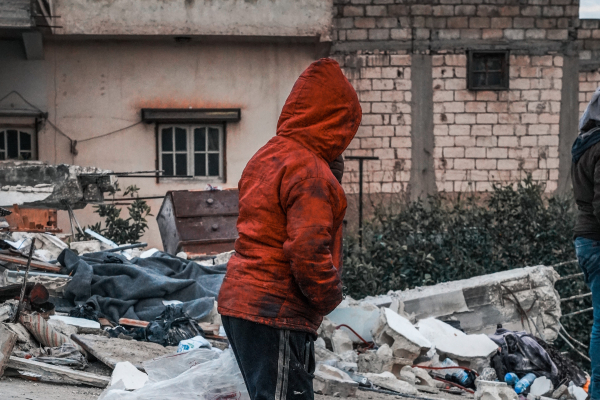 Healing in the Rubble
Amid unthinkable devastation in the aftermath of recent earthquakes in Türkiye and Syria, local believers are serving as beacons of compassion. Despite facing incredible loss, many are providing basic necessities and shelter in communities where very few people have ever met a Christian.
Christar is partnering with a number of churches in the region, helping them demonstrate God's love to people who've been left homeless and in need of hope. Selin,* a member of one of these churches, shares about all she's lost due to the earthquake—and how she's trusting God to bring about blessing in the wake of tragedy.
Two weeks ago, we had our routine. A few days a week, we were giving piano, English and guitar lessons to children in church. We used to hold meetings for women. We used to play games with the children and have fun. Most of these children are our neighbors. When I left the house (for anything), all the kids on the street would greet me and come and chat with me. If I had something, they wouldn't let me carry it, because they were my children.
Now I've lost all these kids.
Those who survived the earthquake left the city because there was no life in it. Our whole life turned upside down.
We're still sleeping in the car as our house is damaged. We live in terrible days—even terrible [doesn't say] enough. We lost at least 350 neighbors.
When the construction of the new church started five months ago, we were dreaming with the children about the days and things we would do there. But with many we won't be able to do what we dreamed of.
But I still have high hopes because I can clearly see God's hand, His love and His compassion in these terrible events. Our brothers and sisters from all over the country are with us in every way. … Many people are trying to help heal the wounds.
This wonderful unity can come only from the Lord. Everything will be new in this city. Those cheerful children's voices will be heard again here. Our old church place has been demolished, but with the Lord's permission and support, we will do much better things at our new church place.
These days will be left as a painful memory, but the Lord will do good things. We would like to thank all our friends and brothers who helped us financially and morally.
We need prayer, help, hugs and healing of our wounds. Please remember us in your prayers; please continue to pray for us.
Christar is coming alongside believers like Selin who are seeking the healing of their communities as they live out their faith in Christ in the face of overwhelming grief and loss. Your gift to the Relief and Refugee Fund will help them provide basic necessities and shelter and be lights for Christ in a dark time.