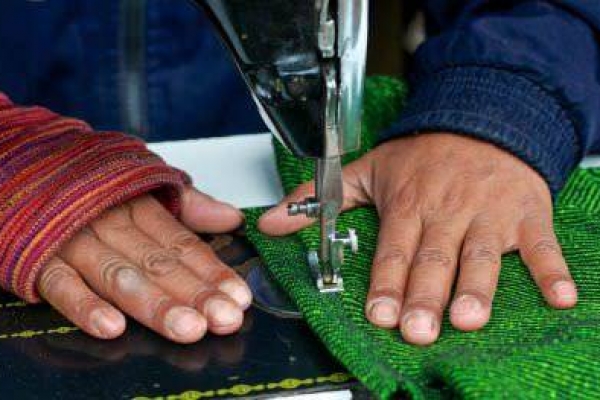 Working toward Hope
Small Business Transforms Women's Lives
Ameera's* life seemed hopeless. Every day she toiled over a wood fire to fix her family meager meals. During the dry months, the family had running water only one or two times a day. Open sewers, animal waste and poor water treatment created serious health problems. She and her husband could not pay for the fees and uniforms for any of their seven children to attend school. How would they ever afford a dowry for any of their daughters to marry?
Opportunity at home
Ameera is a Muslim—a minority in the country where she lives. Here, Muslims often have shorter life spans, poorer health, lower literacy rates and lower wages for the same work than the population as a whole. Women are rarely permitted to leave the home, and they have little hope of improving their families' limited circumstances.
But Ameera's life is changing. God is beginning to use a business that Christar workers have established in her community. She has a job she can do in her home!
A different kind of company
Christar workers Sam and Ellen have established a business that provides in-home sewing work for women who would not otherwise be employed. It's a business that operates very differently from other businesses in this area.
This business pays employees fairly and on time. Sam and Ellen care about what is happening in their employees' lives. They pray for and with their workers and their families. These families are able to afford healthier food, education, needed medicines and medical care.
For deeper transformation
How has Ameera's life changed? Her family has moved into a larger, two-room home. She no longer cooks over a fire on the floor, but has a refrigerator and a gas cylinder stove that is off the ground, away from her small baby. Able to afford the uniform and fees, one of her daughters and a son are attending school. They are even saving money and are able to help others.
Sam and Ellen are thrilled to see Ameera's life improve. But they long to see her life transformed in another, eternal way. Running their business gives Sam and Ellen natural opportunities to share truth.
"Almost every day we work with our [employees or vendors]," they explain. "Not only are we doing work with these families, we're also ['doing'] life! … Whereas before our families knew little about Jesus, now all of them have heard, and are favorable to Him."
Participate by Praying:
Join Sam and Ellen in praying that their employees will become worshipers of the one true God in the community where they live and work