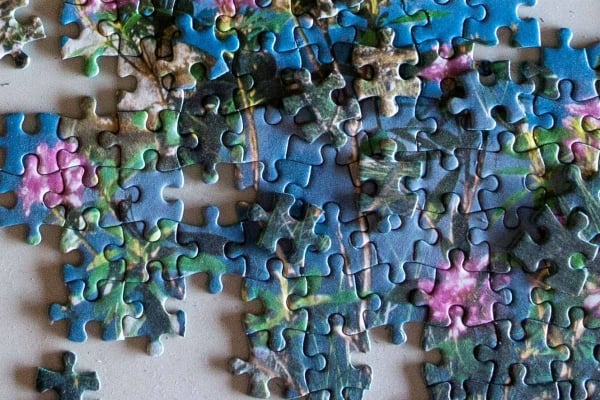 Seeing the Pieces Come Together
Many times, working to see the gospel take root in the heart of a least-reached person is much like putting together a massive jigsaw puzzle without the picture on the front of the box. It requires persistence as workers seek to build relationships and, little by little, share spiritual truth in relevant ways. It takes time and often the help of others before an image begins to emerge. But finally, by God's grace, the final piece is put into place and the picture is revealed.
Evan and Irene,* Christar workers in the United States, had been trying to connect with Prince on a spiritual level for nearly 15 years when they invited him to their 2015 Christmas party outreach. In answer to their persistent prayers, he accepted, bringing his mother with him. And, as the couple would soon discover, God had been preparing his heart and giving him an openness to the gospel.
Evan invited Prince to study the Bible with him on a weekly basis, and Prince happily agreed. "He has been absorbing the Bible like a sponge!" Evan and Irene shared in one of their prayer letters.
Prince and his mother also accepted an invitation to attend the house fellowship for Persian immigrants and refugees that Evan and Irene started in their home in early 2016. Soon they became regulars, and each month they met with others to share a potluck meal, fellowship together, sung hymns in Farsi, study the Bible and pray.
Even though he hadn't yet accepted Christ, Prince became an integral part of the fellowship, and Even and Irene sensed the Lord continuing to draw their friend to Himself. In fall 2017, they asked their prayer partners, "Please continue to pray for Prince. His heart is so open during the discipleship meetings, and he is so close to making a decision for Christ."
Just a few months later, these prayers were answered: In spring 2018, Prince trusted in Christ! "It took more than two years for everything to fall into place, much like putting together a jigsaw puzzle, one piece at a time," Irene shares. "He now sees the picture clearly. We praise the Lord for His faithfulness in Prince's life."
That Easter, for the first time, Prince celebrated Christ's resurrection as His follower. Just a week later he took a day off from work to join Evan and Irene at a Persian New Year outreach. "It was exciting to watch him give out the gospel and to interact with other Iranians on a level that he had never before," Evan recalls. "It was also a big step for him to identify publicly as a follower of Christ in a Persian environment. This is a big step. … We are so pleased to see him want to reach out to other Persians."
Prince is reaching out not only in his community, but in his family. As he continues to meet with Evan weekly for discipleship, he faithfully shares what he's learning with his mother, and Evan and Irene believe she's close to trusting in Christ as well. He's also been a huge asset in the house church as he's often able to explain difficult-to-understand concepts in Farsi more clearly than Evan can.
"This is what we live for: to see our disciples sharing with others!" Irene shares. "Ultimately, we want to see all of our disciples discipling others."
Prince's years-long journey from mere belief in Jesus to serving and following Him as Lord is common among those who come to Christ from Muslim backgrounds. "It is a process for them to see their need for a Savior," Evan explains. "It has been said that the process of a Muslim accepting Christ requires many exposures to the gospel over a long period of time, even as many as 300! We have found this to be true in our own experience. This work requires patience. However, we are excited to see Muslim men and women embracing Christ as their Savior!"
We praise God for giving workers like Evan and Irene the endurance to minister for the long haul so that many like Prince can know and worship Him. And, by His grace, these believers will reach out to others, reproducing their faith many times over.

Participate by Praying:
Praise God for drawing Persians like Prince to faith in His Son!
Ask the Lord to give Persian believers courage to reach out to their family and friends.
Pray for endurance for Christar workers as they faithfully share the gospel over the long haul.