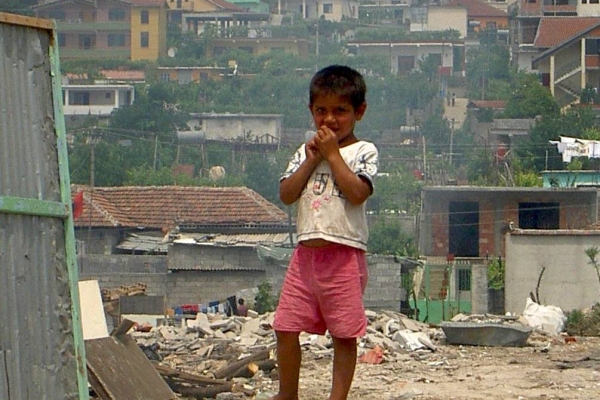 The Roma: On the Margins of Society
The Roma are a people on the margins. Also known as Gypsies or Romani, this traditionally nomadic group has long faced discrimination and persecution, from forced assimilation to atrocities under the Nazi regime.
The Roma trace their roots back to India, where they found work as musicians, entertainers and metal workers. Even in their country of origin, they faced prejudice. Their name for themselves, "Rom" comes from an Indian word that means "a man of low caste who gains his livelihood by singing and dancing."
Thousands of Roma now live in Albania. Many Albanians view the Roma with curiosity, distrust, fear or suspicion, even though they've done nothing to earn such a reputation. The Roma place high value on purity, fidelity, morality and courtesy. They're known for their abilities as singers, musicians and dancers, but are often excluded from society for fear of their "mystical" way of life or simply because they're different.
Low economic status and a resulting lack of housing and health care are the norm among the Roma. Many depend on limited social assistance and occasional work to scrape by, selling blood to hospitals or collecting and selling scrap metal. Employment rates are lower among the Roma than among the Albanian population as a whole—it's estimated that the unemployment rate may be as high as 100 percent in some Roma communities.
Roma people often lack the educational opportunities necessary to climb out of poverty, leaving many helpless to change their situation. Just 14 percent complete primary school.
The majority of the Roma in Albania are Muslim, and they're unlikely to hear the gospel from their Albanian neighbors. While the church in Albania is growing, it's still young, having emerged after the communist ban on religion was lifted in 1990. Islam remains the most prominent religion and the vast majority of Roma in Albania have never heard the gospel in a way they can understand. There are no established churches among them, and few believers.
The Roma may be on the margins of society, but God has not forgotten them. Their greatest need is to know Christ's love and the hope found only in Him.
Participate by Praying:
Pray for the gospel to be heard and embraced among Roma people in Albania.