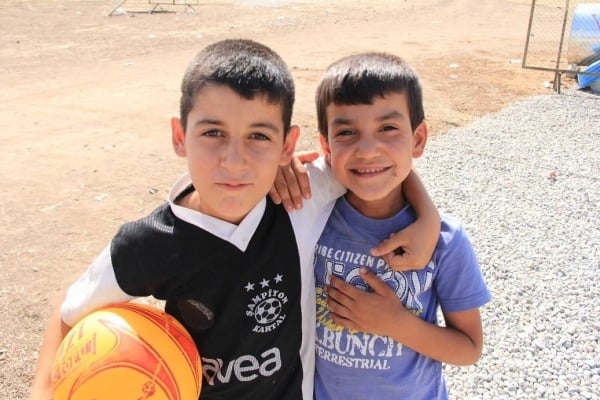 Sowing Seeds of Salvation
As cross-cultural workers in the Middle East, Lewis and Beth* saw how ministry to children often bears fruit years or even decades later. The couple heard from numerous local believers how God used a Bible club to introduce them to the gospel and plant seeds that later bore abundant fruit.
Now, as they serve among Middle Eastern refugees in the U.S., Lewis and Beth see God beginning new stories of salvation. Each week, 30-40 children from refugee families participate in their Bible club, giving Lewis, Beth and their co-workers a wealth of opportunities to introduce young people to Jesus.
For over 13 years, children have been showing up to this weekly outreach to play games like soccer and learn from God's Word. They come from a variety of Middle Eastern backgrounds, but most have one thing in common: their families are from people groups with few opportunities to learn of God's love for them. Many have never heard the gospel before.
Although the United States is often thought of as a place where everyone has opportunity to hear the good news, more than 80 people groups without access to a church that preaches the gospel in their language and culture live within its borders. Three in every hundred people in the U.S. are least-reached. Many have recently arrived in the country as refugees or immigrants, and come from communities without a culturally-relevant gospel witness.
Lewis and Beth's city alone has welcomed refugees from over 40 countries. This includes thousands of Muslims and Yazidis, a Kurdish religious group that has often faced persecution, as well as several other minority groups that few people are seeking to reach with the good news of Christ.
Lewis, Beth and their teammates marvel at the open doors they've been given to share the Bible with young people from these numerous least-reached people groups. "It's amazing to us that [these families] will let us take their kids and teach them the Bible," shares Beth, adding that some of the children have been attending for several years. "A lot of seeds are being planted."
God is using these workers' understanding of refugees' and immigrants' languages and cultures not only to help them share the Bible in relevant ways with the children who attend weekly clubs, but also to enable them to build connections within the broader least-reached community. In addition to reaching out to children, Lewis and Beth build relationships with women through English as a second language classes and are involved in an Arabic-speaking church, at which unbelievers are a constant presence.
Lewis, Beth and their teammates also come alongside Christian refugees as they acclimate to life in the U.S., offering them practical assistance and encouraging them to walk closely with the Lord. Beth shares that often, these believers struggle to remain strong in their faith as they face the challenges of living and working in an unfamiliar culture. "We need to be reaching out to these people," says Beth. "It's a crisis in their lives."
Whether at kids' clubs, at English classes, at the church or just out in the community, Lewis and Beth are trusting God to bring forth fruit from their efforts, both in the present and in years to come. Join us in asking God to bring forth a great spiritual harvest as workers faithfully sow seeds of salvation!
Participate by Praying:
Praise God for giving Christar workers opportunities to share the Bible with refugee children.
Ask God to open doors to introduce entire families to Jesus through connections built at the kids' club.
Pray that the seeds of the gospel that are being planted will grow to bear much fruit.
Pray for wisdom for workers as they seek to encourage believing refugees to walk closely with the Lord.