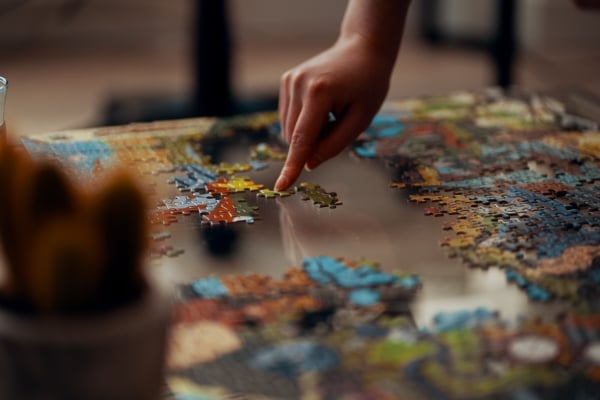 Assembling a Puzzle: How God Uses Vocation in Ministry
Not all cross-cultural workers are full-time church planters. Many make the intentional choice to serve God overseas through their vocations. These workers trust the Lord to bring the right opportunities in the right places with the right connections, all so that His name will be known and glorified among the least-reached. Alicia* is an example of this. Here, she shares how God opened the door for her to use her professional skills on the field and how her work blesses a Christar project in the Middle East.
Have you ever been working on a 5,000-piece puzzle and wondered how all those tiny pieces would make a complete picture? You keep putting them together, section by section, until order and shape emerge. From my childhood and church upbringing to the jobs I've had, I've seen God orchestrate those small pieces until they formed a picture I would never have imagined for myself. Along the way, I thought I knew what that picture would look like—or at least what I wanted it to look like. When it didn't turn out as I expected, my pain and disappointment led me to release my well-intended plans over to the Lord.
I chose to follow Jesus at a young age, and growing up, I was always curious about the world and other cultures. I was drawn to people who spoke another language or were from a different country. God later blessed me with a church that provided a wonderful missions emphasis and taught me about the vast number of lost people in need of a relationship with Jesus. While in high school, I sensed the Lord's leading to serve Him cross-culturally.
After serving in Europe for two years, I thought I was sure of where and when I would minister long term. And I knew that seminary was the next step. Since I needed to work while attending, I found an on-campus position. It involved administrative work, which I found I enjoyed; and I saw I was good at it as well.
After my time at seminary, I had the rug pulled out from under my feet; I was uncertain of what God was doing and if I would ever go overseas long term. I questioned my identity: "Lord, if I'm not a cross-cultural worker, what else can I do?" And throughout that time of fog and despair, I could sense the Lord whispering, "You'll be alright. Trust Me. I am at work." In that season, God's Word came to life in some of the most beautiful ways that I still treasure to this day.
Around that time, I began some freelance writing in pursuit of another passion that God had instilled in me. These opportunities combined both my heart to see the nations know God and a love for writing; and through them, I connected with one of Christar's projects serving people in the Arab world.
I knew I had to check out their ministry, and I was pleasantly surprised to discover that the Christar workers leading this project just happened to be visiting the town where I was living. When I met with one of them and heard that their team needed a native English speaker with administrative skills, my mind flew to the work I had been doing in a similar capacity for a few years. I was enjoying that, so why not employ the gifts God had already given me overseas? A few months later, in May 2017, I planned a vision trip to see if the Lord was opening the door for me to serve with them.
At the end of 2018, I arrived in the Middle East. I'm now putting my professional skills to use in various ways, from writing grants and proposals to handling other administrative and communication tasks. In addition, my knowledge of Western culture is a benefit as I interact with our partners and people who want to pray for and support the project.
Both my vocation and that of one of my national coworkers, who serves in a finance-focused role, are so vital to the project here. We use our professional skills because we want to see people understand the truth of the gospel and to witness churches planted. It is amazing to watch our gifts and experience work together so beautifully, because every aspect of our lives is to be a form of ministry!
My professional skills have also allowed our project to continue building relationships with least-reached people, such as when I worked with a local Muslim man on a grant proposal. He knows we are Christians, and he approached us about partnering with him on a major project because he trusts us. We have the opportunity to shine the light of Jesus to people like him as we both display Christ in our lives and do our best in our professional work. A sloppy job would not have been a good example. This man was so grateful for my work that he went out of his way to serve me tea in my office—something I would never have expected. Normally, it would have been the other way around.
One of my favorite parts of what I do is reporting how God is at work in the Middle East. I get an insider's view of how God is transforming the lives of women who have little to no knowledge of Christ, and then I help communicate this good news to others. Outside of my day-to-day "office work," I enjoy building relationships with people in my community and disciple local believers.
When these puzzle pieces are put together, they form a far different and better picture than I could have imagined. And some of the most difficult seasons in my life were the ones that laid the framework. Those jagged pieces were shaped by painful loss, closed doors and years of waiting for God's next step for me. Though it has taken a long time for me to see how they would fit together, God has given me a deeper sense of dependency on Him through it all. I continue to be amazed at His sovereignty.
Participate by Praying:
Pray that Alicia will continue to progress in learning Arabic so that she can go deeper in discipleship with local believers.
Ask God to grant His favor to Alicia's team as she works on proposals to help fund this project.
Pray that women across the Arab world will have life-changing, personal encounters with Jesus.