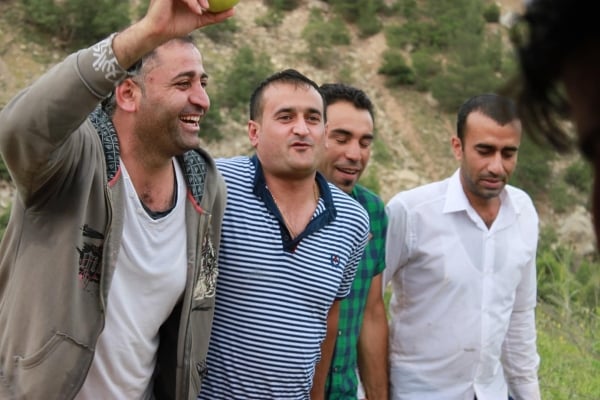 Hungry for Hope and Freedom
Christar workers serving in least-reached communities often find that local friends are hungry for the hope and freedom Christ offers, even if they're not aware that what they desire can be found in Him. Below, Mark,* who began serving long term in the Middle East this past spring, shares how he's seen his English students hunger for the good news.
This past Friday I had my first real opportunity to experience the sights, sounds and traditions of a Kurdish picnic. My team, along with more than 30 of our English students, piled into an old bus and began our journey into the mountains. For the entire hour-long bus ride (I truly mean the entire hour), students danced, sang and celebrated our day out. In typical Kurdish fashion, our picnic lasted almost 11 hours and was filled with lots of homemade food and simply enjoying each other's company. In a country that is surrounded by so much violence, Kurds relish the opportunity to get away and celebrate.
This picnic was memorable not only because it was fun, but also because it was an opportunity to celebrate many of the deep relationships I've formed with my students since arriving in March. Since then, I have deeply wrestled with God's purposes in bringing me here. With each new cultural pressure and endeavor to adjust to life overseas, I feel the weight of my great weakness and sin more and more. … But, as I sat with my students on Friday, listening to their stories, laughing with them and getting to know them on a deeper level, I couldn't help but be certain that God has placed me exactly where I am meant to be.
Spending so much time with my students on outings like this picnic has made one thing clear to me: My students are hungry. They are hungry for hope, hungry for freedom and hungry for something that only Christ can give them. One of those students is named Raman. He and his family are refugees who live in a local camp outside of our city. Raman is quiet and thoughtful, and has such a sweet spirit about him. He has become one of my favorite students. The more I've gotten to know him, the more I have been filled with a deep love and compassion for him that comes only from the Holy Spirit.
Though conversations with him are sometimes difficult because of his broken English and my limited Kurdish, his struggle under the weight and burdens of Islam is so apparent. Every day I see how students like Raman are struggling under the burdens of Islam. Many of them wrestle deeply with the demands to earn Allah's favor.
I pray that one day, Raman and the rest of my students will find true freedom and hope. Christ has chosen to use the lowly, broken and weak things of this world to make His name known among people who desperately need Him. For this reason, I am so grateful for my opportunity to sit in as a broken vessel at a Kurdish picnic.
Participate by Praying:
Praise God for giving many least-reached people a hunger for the hope and freedom He offers.
Praise God for calling workers like Mark who can share the good news in least-reached communities.
Pray that many of those who hunger for the gospel will recognize what their hearts long for as they hear the gospel from Christar workers.