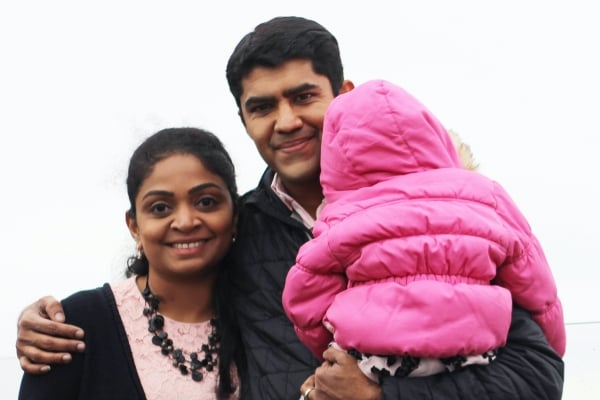 Exponential and Eternal Impact
Chris' mother had to borrow money to pay for his schooling. A firm believer in the power of education, she admonished her son, "Those who do not read are no better than those who cannot read."


What she didn't realize was that the school in South Asia to which she sent him was a Christian school. There, Chris not only learned English but heard about Jesus. "I didn't like Christians, but I couldn't get away from Jesus," Chris recalls. And, the way Christians called God "Father" upset him. "No one dared call Him that except these crazy Christians!" he thought.
However, he began to see how he could have a relationship with God, and in high school, gave his life to Christ. Now, several decades later, Chris—once a street kid in South Asia—is Dr. Chris Gnanakan, a professor of theology and global studies and Christar's Director of Leadership Development.
Dr. Gnanakan engages in what he calls "Triple M Ministry" of motivating with God's word, mobilizing workers to serve among the least-reached and mentoring the next generation. He's focused on equipping others to plant churches because, as he says, "I don't believe anyone is a missionary success unless they have successors."
As he works to equip successors, Dr. Gnanakan is excited to do what most others don't, won't or can't. He seeks to train disciple-makers of national leaders, focusing on planting churches among the least-reached and serving the suffering church within restricted-access nations.
Early in his ministry, Dr. Gnanakan was challenged by a mentor to consider, "Do I want to do something big and great for God, or do I want to equip others to do something bigger and better than I could ever do in my lifetime?" He chose the latter, seeing how, through training local believers to plant churches, he could have a far greater impact for the kingdom of God than if he sought to plant churches himself.
In his role as a professor, Dr. Gnanakan teaches 600 to 700 students at a time as well as personally builds into the lives of those considering cross-cultural service. Each week, he and another Christar worker meet with missions students, seeking to disciple, develop and deploy them for effective service. Nine of the students who were part of this group in the past are now in full-time ministry.
Dr. Gnanakan's teaching ministry extends far beyond the university, however. While he recognizes the great need for cross-cultural workers, he firmly believes that "there's no substitute for nationals reaching nationals." In addition to teaching and mentoring college students, he's involved in training believers in 12 restricted-access countries, equipping them to minister in communities where few know Christ.
Thanks to his three doctorates and South Asian heritage, Dr. Gnanakan is able to provide training in communities that many Western workers cannot enter. In a typical summer, he travels to four or more countries, training believers in each place for effective ministry. For example, in Southeast Asia he teaches a group of up to 20 pastors from a group of house churches, tailoring his topics to their expressed interests and needs.
As Dr. Gnanakan returns to the same locations to teach year after year, he's able to see how God is working through those he has trained to demonstrate Christ's love and share the gospel among least-reached people. He shares about a couple from South Asia who participated in training several years ago who have started a home for girls who have been trafficked and who now bring 30 leaders each year to be equipped for ministry. Through training these two believers alone, dozens have been impacted for God's kingdom. Likewise, a former member of an extremist Muslim group and his wife are putting their training into action as they share Christ with many through a tailoring business and a beauty salon.
Each individual who is trained has the potential to have an exponential influence in least-reached communities, and mentoring is a major part of equipping the next general of believers. "Things are better caught than taught," Dr. Gnanakan explains. "We don't need more information, we need integration." He knows firsthand the power of learning from the example of others, not only as the mentor but as the mentee: His own ministry was shaped by the direct influence of Word of Life co-founder Jack Wyrtzen and of theologian and evangelist John Stott.
In the 1980s, Wyrtzen had a vision for reaching countries where Western workers couldn't go through training believers from those nations to plant churches. He offered Dr. Gnanakan a scholarship to Word of Life Bible Institute, prompting Dr. Gnanakan to leave behind his career as an electrician in South Asia and travel to New York to begin his training for ministry. Through Wyrtzen, a man who impacted thousands to take the gospel to those who don't yet know Christ, Dr. Gnanakan learned the power of storytelling and of equipping others to serve the Lord.
Later, while Dr. Gnanakan was studying in the United Kingdom, he gained understanding of the importance of clearly conveying the truth as he was mentored by Stott. "I learned that all the knowledge in the world is useless if we can't communicate it effectively and with wisdom," he says.
Like the Apostle Paul, who wrote to Timothy, "what you have heard from me in the presence of many witnesses entrust to faithful men, who will be able to teach others also" (2 Timothy 2:2 ESV), Dr. Gnanakan seeks not only to teach the truth, but to prepare followers of Christ to communicate that truth to others. Though the COVID-19 has interfered with plans to provide in-person training in 2020, he continues to equip believers throughout the world via Zoom. "Especially during the coronavirus, the brevity of life leads to the urgency of missions," he says. "We need to focus on the lost, to win the lost at any cost while we can."
The need of the least-reached has always been urgent, and the pandemic has shone a spotlight on the importance of training local believers who can establish churches among them. When the Body of Christ is equipped, the Cycle of Christ-honoring Transformation can continue even if cross-cultural workers must leave.
Participate by Praying:
Praise God for the exponential impact of Dr. Gnanakan's ministry as those who have been trained serve among the least-reached.
Pray for wisdom in effectively training believers in least-reached communities in a time of increased restrictions on gatherings and travel.