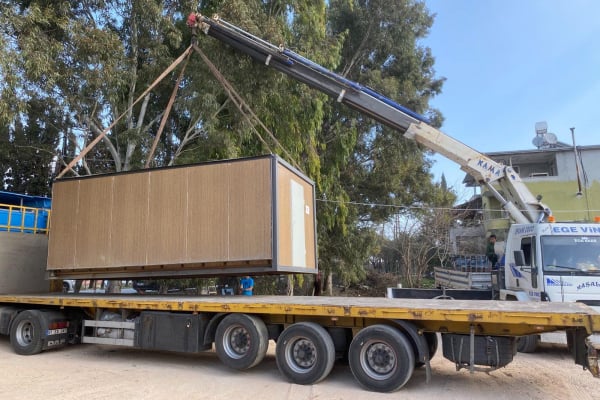 Providing a Base for Ministry in the Earthquake Zone
"It is a beautiful picture of the Body of Christ, each one doing their part," says Abe,* a cross-cultural worker serving in the earthquake zone in Türkiye and Syria. "Believers are coming from everywhere in the world. … They arrive and unload and get to work."
These volunteers are able to come and jump right into service thanks in part to gifts from believers on the other side of the world: housing containers provided through Christar's Relief and Refugees Fund. While these units arrived empty, they brought the potential of more coordinated ministry in a time of massive need.
The empty housing containers have become a staging ground for multiple relief efforts. Four serve as dorms for visiting teams, allowing them to focus on using their skills to bless those who've been displaced. For example, when civil engineers arrived to create a filtration system that provides clean drinking water, the containers served as base camp; the same was true for a developer who's teaching families to set up specialized tents. An additional container is designated as a kitchen, in another, volunteers sort piles upon piles of diapers, soap, backpacks, detergent and other essentials and bundle them into packages for families, as well as distribute food.
In still another, a local pastor and his family who lost their home in the earthquake find shelter as they host and serve alongside visiting teams. This couple has chosen to stay for the sake of the gospel, and their presence in the base camp makes it possible for numerous others to minister effectively.
"What a blessing it was to see how God arranged for these containers to be used in such an efficient way," Abe says. "Not only are important services being rendered, but it is definitely being done in the name and with the love of Christ."
Abe continues, "Even before these containers were sent, God was going ahead, preparing the way for what is now a huge outreach in the area. … Pray that the church, local and extended to the larger Body of Christ around the world, would be an incredibly bright light in these days!"
Participate Through Praying:
Praise God for using the generosity of His people around the world to enable believers in the earthquake zone to minister to those who've suffered great loss.
Pray for ongoing wisdom for all those involved in relief efforts.
Ask for unity among volunteers from diverse places and cultures.
Pray that many in the earthquake zone will experience God's love and compassion through the care of His people.