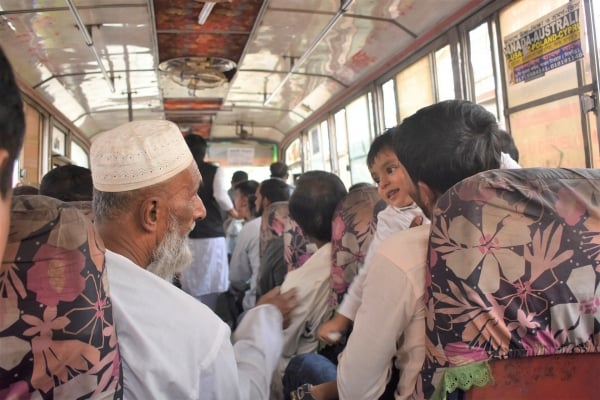 Blessed are Those in the Back of the Bus
For the past two decades, Christar worker Elijah* and his family have served among Persians, first in Central Asia and then in the United States. In this time, he's seen thriving churches established among these least-reached people in numerous countries; and as he reflects on the ways God has worked, he's driven to greater dependence on the Lord. Below, Elijah gives glimpses into his ministry and shares what he's learned about dying to self in cross-cultural ministry and becoming less for the sake of the gospel.
"If one were to stereotype what a call with an LA-based music producer might look like, it would be exactly this," I thought to myself. My Iranian pastor friend, recently turned major Farsi worship music producer, had joined us via Zoom to simultaneously navigate the complexities of the music industry and the heavy traffic on the 405 headed south into the City of Angels. I was a bit disappointed he wasn't wearing shades. In the third Brady Bunch Zoom box, my Afghan pastor friend was peppering us both with questions about how to build a shared space in which Afghan believers throughout the world could collaborate to create art, especially music for worship and evangelism, and then how to help this content become as omnipresent on the internet as possible. "Viral" was the word of the day.
If you are thinking to yourself, "How did a random guy from Kansas end up on this call?" so was I! But my Afghan friend had insisted I be on his steering committee; and so here we were, networking. He'd ask a question; I'd defer to my LA pastor/producer friend. And repeat. Two out of the three of us were really hitting on all cylinders. And, while addressing the desperate shortage of worship music in Afghanistan's primary languages of Pashto and Dari was just about the most exciting project I could imagine, the Luddite in me was hoping against hope that an AOL email address would be the best channel through which these dreams could come to fruition.
Twenty years ago, as my wife and I headed to Central Asia, we considered the wise words of an experienced Christar worker who had advised, "Be as incarnational as possible without going crazy." We mainly obeyed that overseas—that is to say, we're still mostly sane. We learned the language, dressed like the local people and generally understood how to control the flow of the oily dishes we were eating by keeping our hands away from our elbows and laps. But when the soup and soppy bread inevitably stained my shirt or, in my wife's case, her kurta, we prayed their laughter was offered in appreciation of our humble attempts to show them God's love. I'm sure it was.
While studying the Beatitudes, I learned that one important definition of the word "meek" is "power under control." Honestly, this concept doesn't come up too much when God directs you to live out the good news of Christ cross-culturally. Back home, where church is mercifully conducted in this wonderous language we know, we are strongly tempted to state, and perhaps sometimes operate on the following precepts: blessed are the competent; blessed are the talented; blessed are the efficient; blessed is the maverick who really wants those reins; blessed is the best communicator in the room; blessed is the guy who can make the numbers all rise.
Theology aside, sometimes I picture the church in our own Western culture being like one of those special student driver cars with two steering wheels, with us in the driver's seat, our hands around steering wheel number one, and God passively on reserve in the passenger seat just in case. But for those involved in missions, the image is closer to a heaving, overflowing bus in South Asia with us stuffed and sweaty in the back row with a goat and a couple chickens in our laps. And though we can't see the driver, we're praying it's our faithful God.
I suppose 20 years of being the worst communicator in the room does something to a person. And when I'm not pulling my remaining hair out pouring over the Dari New Testament preparing to preach, I'm growing in appreciation for the discipleship lessons embedded in cross-cultural ministry.
As I listened to a recent podcast recounting the collapse of a famous megachurch, I shuddered to recognize that the same pride that beset this church to some degree taints every servant of the Lord, including me. Remembering the grace God showed Nebuchadnezzar (not only in returning his reason to him, but in stripping him of it in the first place), I considered long periods in my life when I felt so helpless due to new languages or cultures, shifting tides of politics that sent us permanently packing or chronic waves of illness that clouded my mind so completely that I certainly felt that reason and the power of speech had been taken from me. I don't know why God has allowed certain hardships in our lives (though no doubt many were the fruits of our own sin), but the pain has certainly deepened our reliance on Him.
As I stand back and consider the journey, I marvel—though I shouldn't—to see thriving Persian churches in Central Asia, the Middle East and Los Angeles that are continuing to make strides. As I hear my Tajik pastor friend tell me of his fruitful journeys into Central Asia or learn of another six believers being baptized last month at the church of a certain music producer, I realize God is ever the One strong enough to part the infinite LA traffic.
So, 20 years in, I'm ever more thankful that, whether as far away as Central Asia or as close as our quaintly familiar Los Angeles just around the corner, going out to proclaim good news makes us painfully and beautifully aware that if anything good is going to happen it is only, only, only (and another only) going to be by His power. Of course, this is true in every type of ministry; but it's a lot harder to deny this reality in cross-cultural ministry as I'm forced, often against my sinful will, into such a decreasing posture daily. So, if I'm invited to another Iranian or Afghan worship recording session in the future, I'll consider myself happy to ask my Persian friends, "Blessed are those who bring the pizza?"
"He must become greater; I must become less." John 3:30 NIV
Participate by Praying:
Praise God for building His Church among Persians in numerous countries!
Ask the Lord to give wise and joyful humility to cross-cultural workers as they depend on the Lord in their lives and ministries.
Pray that workers like Elijah will continue to come alongside Persian believers in ways that encourage and assist them in making Christ known.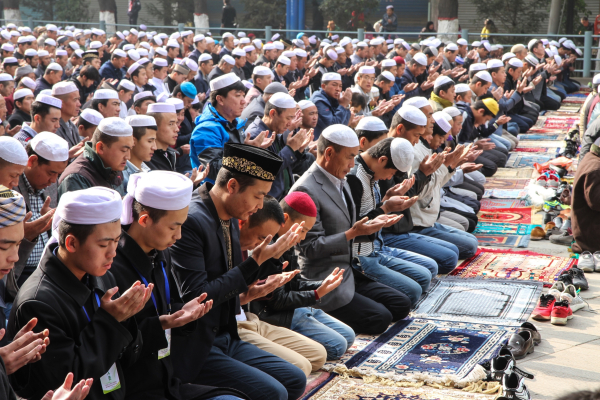 The month of Ramadan is an excellent opportunity for followers of Christ to make a difference in the lives of Muslims!