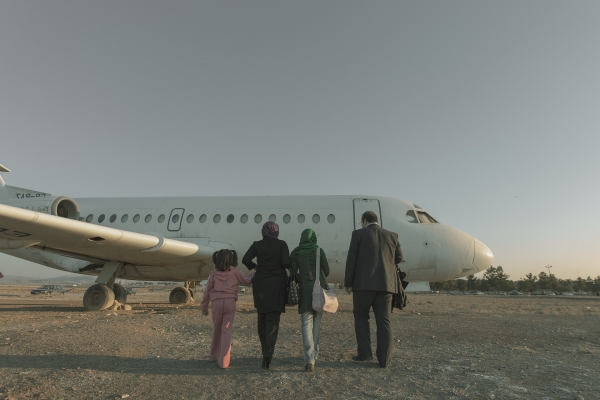 The Joy of Fruit After a Decade of Faithfulness
When Suzi and her family arrived in the United States three years ago, they knew no one. As strict Kurdish Muslims, Suzi wore her head covering tightly and her husband attended the mosque regularly.
Suzi's husband had helped supply the U.S. military's office needs in the Middle East, and as a result the military had offered him and his family the opportunity to come to America. For five years they hesitated, knowing that relocating to the United States would mean leaving behind everything they knew and loved. But eventually, in 2017, they took that leap.
After the couple settled in an area populated by many other Kurds, Suzi started looking for a job. Though she found one, her English wasn't strong enough to understand the required training, and she needed someone to translate. When she asked others in her community where she could get this assistance, they directed her to a Kurdish pastor. Although this man has been ostracized from the Kurdish community because of his faith in Christ, he's still known as the one to go to for help.
This pastor connected Suzi with Natasha, a Christar worker serving in the local area who had previously served in the Middle East and is fluent in the Kurdish language. He encouraged Natasha to let Suzi know from the beginning that Jesus is the motivating factor in her desire to help Suzi and others like her. Prompted by this motivation, Natasha proceeded to translate the 20 hours of training that Suzi needed for her new job at a department store.
She also prayed regularly for Suzi while with her, an act that brought Suzi to tears the first time she heard her American friend bring her needs before the Lord. "Praying is commonplace to me, but not to her," Natasha explained. As their friendship progressed, Natasha could see Suzi connecting prayer with the power of God and rejoiced when Suzi told her, "Every single thing you've prayed for me, God has answered! When you pray, God listens."
However, as she tried to share with Suzi about the freedom and hope she could have in Jesus, Natasha sensed disinterest. Then she realized she was usually sharing with Suzi when her friend's husband was nearby. But, one day in December 2018, as Suzi and Natasha were in the car with none of their combined seven children, Natasha sensed an opportune moment. She desperately wanted to direct the conversation to Jesus—but nothing was coming to mind.
"So, I just opened my mouth and started talking about how I had been reading in Revelation," Natasha recalls, adding that she wasn't sure exactly what she was sharing when she began to speak. But as she talked about the Lamb's Book of Life, she was able to contrast it with the Islamic belief that God weighs one's good against one's bad after death.
God used that conversation to awaken in Suzi a desire to read the Bible with Natasha! At that point, only Luke and Acts were available in Suzi's heart language, so they began reading through Luke together.
About six months later, they reached chapters 14 and 15, where they read about the cost of discipleship and the parables of the lost sheep, coin and son. Natasha felt prompted to make a very clear invitation, showing Suzi that she was like the lost ones and that even though the cost of accepting Christ was great, it would be worth it.
"I have to think about it," Suzi replied. The next day she messaged Natasha to say that no, she couldn't follow Christ because she would lose everything: Her husband would divorce her and take their children from her. Though this saddened Natasha, she was glad to know where Suzi stood. And, despite Suzi's reluctance to make a commitment, the two women continued reading the Bible together.
One day toward the end of the year, Natasha commented to Suzi, "We've been reading the Bible together for a year now!" She was caught off guard by her friend's response: "I know, I've believed in Jesus for a year now!"
Shortly thereafter, as these two women listened to a mutual friend share her testimony and tell of her baptism, Suzi raised the question, "Well, should I be baptized?" She continued, "And what else have you not told me?" When Natasha exclaimed that there were so many things she still needed to share, Suzi replied, "Well, tell me! I want to know all the things!" As Natasha saw her friend's reaction, she realized that Suzi truly believed and accepted all that Natasha had been telling her for the past year.
Once the full New Testament was published in Suzi's language a few months later, the two women started reading Romans together. This gave Natasha the opportunity to lead Suzi in the sinner's prayer in her own language in the spring of 2020.
The discipleship process has been slow going. Suzi works full time and is the mother of five children. She is also trying to keep her new faith from her husband, still worried about what his response will be. But Natasha rejoices to see each small step of transformation, such as the shift in Suzi's prayer requests from focusing only on physical provision to also including requests for the salvation of her husband and children. She also gradually stopped wearing a head covering, a change her husband has seemed to accept.
Natasha and Suzi's journey is still in process. Natasha, who has been reaching out to Kurds in various contexts for more than a decade, shares that ministry among this people group is hard the entire way from beginning to end. But seeing God bring about fruit in Suzi's life has been a great encouragement as she serves faithfully in Suzi's community, pursuing transformation that lasts for eternity.
Praise God for Suzi's salvation, and ask God to give her courage in sharing her faith with her husband and children.
Pray that many Kurds who receive the New Testament in their language will take an interest in reading it and learning more about Jesus.

Ask God to continue strengthening Natasha and her teammates in their work among this hard-to-reach people group.