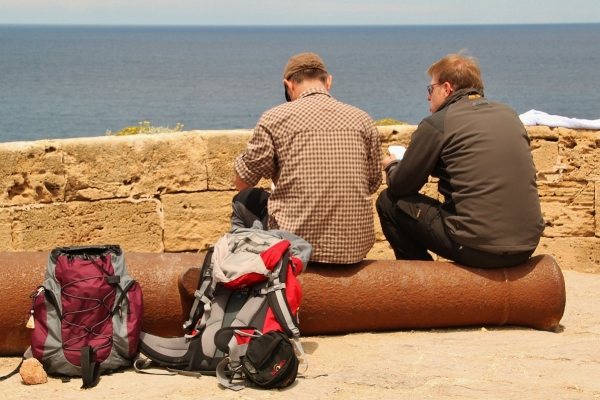 Why Go With an Agency?
Picture this: You grab a suitcase and stuff it with your most essential belongings, throw your laptop in a backpack and a few hundred dollars in your pockets and snatch a plane ticket to somewhere far away, dusty and idyllic. You dream of doing big things for God and running fast into His calling to serve. You imagine connecting with those who desperately need to hear the good news. You can already see yourself making a difference, and you don't want to be held up by formalities or wait on logistics. You want to go. You want to get your hands dirty, fast. You're zealous and ready to serve God now. And that is a good thing!
Don't lose that passion! But, consider this: If it's more efficient to take the details in your own hands and just go there (wherever there is for you) now, why do sending agencies exist? Why do they matter? What's the point of signing up with an organization that might slow you down when you just want to serve God as immediately as possible?
Take three minutes and hear us out on why a sending agency might actually help you get to your dream better.
1. Sending agencies know a thing or two. Agencies will put you in contact with wise people who will help you be efficient and effective. These people often have extensive field experience. Agencies are also comprised of people whose job is to help you make the most of your passion to serve God. Agencies are not created as roadblocks to keep you from your dreams of reaching the lost for Christ. They exist to help you reach a better-quality dream because they teach, train and guide you through the preparation process so you don't end up as a false start or quick fail.
Agencies provide a support team of professionals devoted to assisting you. The communications department will help spread the word about what you and others in the organization are doing, encouraging individuals and churches to pray for and give toward your ministry. The finance department will verify you don't mess up taxes and accounting. The mobilization team will work with you to find a good location and a project that aligns with your passions. They'll also help find future teammates to work alongside you. The staff will train you to do well once you get on the field. And when you face issues, they will already be aware of your story and invested in you. These are the people who will help you, counsel you and process with you through the good and bad you'll face. When you come back for home assignment, you'll have people in place to support you as you straddle two worlds. When you hit the inevitable bumps along the way, the agency will soften the impact.
2. Let's talk about paperwork for a hot minute. Everyone who has lived overseas can testify that it gets complicated, fast. You might encounter visa snafus, residency applications, apartment leases, bank accounts, taxes or a selection of 400 other laborious tasks we don't have space to list here. Living in another country requires extensive amounts of logistical prowess.
It's possible you excel in administrative organization, but you're only one person. It's likely you would benefit from an agency that processes and coordinates these details for hundreds of people as part of its job. Agencies help you do these things correctly so your status in the country where you want to serve isn't jeopardized. And, being part of an organization that handles these details will allow you to focus more time on language learning and building relationships so you can share the love of Christ with those who have never heard. And, isn't that your reason for going?
3. You aren't Jason Bourne. When you go with an agency, you'll have a built-in field team for community, support, connections and networking. You don't have to do it all yourself. You'll have the support of a team—your overseas family. You'll have their wisdom, experience and help as you adjust. You aren't starting from scratch or swooping in as a naïve hero. The community of a team of workers is invaluable when you face your first bout of homesickness, when you miss a big life event back home, when you need to find a good doctor. The team will keep you grounded and supported, realistic and hopeful. They will also keep you from wasting the time it would take to figure it all out on your own.
4. An agency requires you to depend on others. Raising financial and prayer support before you leave will make you lean on the body of Christ. Even if you think asking other people for money is awkward, remember: This is their opportunity to participate in global ministry!
If you just pick up and go independently, you can probably gather some friends and relatives who care enough to read your emails and like your social media statuses, but the requirement of raising prayer and financial support allows you to lean on others. Asking others for help will keep you focused on community and the body of Christ instead of your own abilities to make it alone. It will also keep you accountable to someone beyond yourself.
5. Your parents will sleep better at night. When you're an adult trying to branch out on your own, you might be tempted to discount your parents' opinions and concerns. But whether you think the world of your parents or feel like their ideologies are worlds apart from yours, they have more than a few wise things to say about life. Don't disregard this or dismiss it.
Many parents find it comforting to know that their child has the safely net of an agency (complete with health insurance, wise counsel, training by experienced leaders and financial support). You know your parents, we don't; but we can make an educated guess that they will more willingly embrace the idea of you switching continents if it's with a sending agency and not just you and a suitcase.
God has certainly used and can still use those who head out to serve in other countries as free agents, but the systematic support of people who pray, offer helpful resources and possess an abundance of wisdom from those who have gone before you increases your chance for success.
Do you know what is safe to post on social media and what could put you in danger of losing your visa? Do you know all about international taxes, language learning and graphic design or could you benefit from a supporting home office? You may be called to serve or even suffer for Jesus in your cross-cultural ministry, but there is no reason to self-sabotage for the sake of the gospel because of impatience.
We love your passion to go and we want to help you go well.
You're still here and not on the plane yet? Okay, cool! Do you want to hear more about the basics of Christar? Read more about our vision and core values and distinctives and explore some of the reasons others choose Christar.
We are thrilled to connect with those who share the vision for seeing Christ-honoring transformation happen in communities around the world. You can email us anytime and talk to one of our mobilization mentors.

Laura lives in Lancaster, Pennsylvania, where she freelances in various capacities, leads worship at her church and hangs with her adorably photogenic dog named Kimchi. She's well acquainted with the chaos of trying to determine what to do in life.
Laura went to Bible college, where she explored cross-cultural ministry through classes, conferences and lots of practical application. After college she went to grad school, taught, went to South Korea for a year, worked for Christar, then spent a good chunk of the last decade working with international students in high school and college in the U.S.
She would love to journey with you as you consider missions—because she's been there. Because reaching the nations is going to look different than it did in centuries past. And she wants you to be a part of it.